Lab Created Synthetic Ruby dark garnet red 8# Corundum Gemstones Wholesale from China Suppliers and manufacturers.

--Also Called Created Garnet Red stones, Synthetic Ruby Dark Red,Synthetic Dark Garnet,Red Corundum,Created Garnet Red Ruby;
--We Supply and Manufacture Lab Created Ruby in All Popular Shapes and Sizes;
--Color Shades:  Lab Created Ruby 2#, Lab Created Ruby 3#,Lab Created Ruby 5#, Lab Created Ruby 7#, Lab Created Ruby 8#;
Lab Created Ruby Color Shades:

Ruby #8 color is the darkest red, the red color looks like the garnet red and the blood red of pigeon.

Lab Created Garnets/Dark color Ruby gemstones come under the category of Synthetic Corundum. Synthetic Garnets are made by a method called Flame Fusion.They are made in such a way that they look like Natural gemstones. These Synthetic Garnets will have same chemical properties of the real stones. They will have the same hardness, density and appearance like the Natural Garnet. Only a trained eye can make out the difference between the two.
The chemical properties of the Synthetic Dark Ruby Red stones is:
CHEMICAL PROPERTIES: Al2O3
HARDNESS: 9 Moh's Scale
DENSITY: 3.98 – 4.1 g/cm3
PURITY: 99.99%
MANUFACTURING PROCESS: Verneuil / Flame Fusion
Pictures
---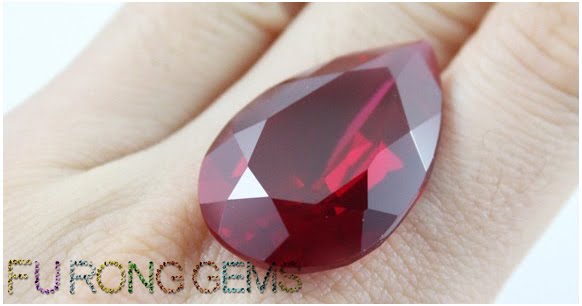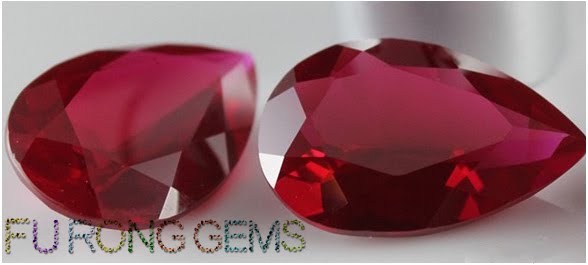 And Now you can buy Lab Created Garnet Color Loose stones with an excellent simulated of Real Ruby Gemstones at Wholesale Direct Factory prices from the Real China Professional Manufacturer and Supplier.
We have quite a collection of Lab Created Ruby Dark Red Color Loose Stones such as popular Round Brilliant Cut,Princess Cut,Emerald Cut,Cushion Cut and also unique heart, Oval,Octagon,Marquise, Pear,Star Cuts and Much More..
Synthetic rubies are made of the same chemical components (corundum) that occur naturally in the creation of this incredibly fiery gem.
---
What is Corundum and What are its Basic Qualities?
A: Corundum is an aluminum oxide that commonly forms hexagonal barrel-shaped prisms that taper at both ends or as thin tabular hexagonal plates. It has a hardness of 9 on the Mohs scale, making it one of the most durable commercial gemstones. It has no dominant cleavage and fractures in a conchoidal manner. A high density of ~4.0 g/cm3 (most silicate minerals are ~2.6 g/cm3) results in corundum occurring in secondary placer deposits and recoverable by panning methods, similar to how you would recover placer gold.
Corundum comes in all colours of the rainbow but is most commonly found as opaque crystals with dull colours. Red corundum is called ruby, blue corundum is called sapphire, and all other colours are called fancy sapphires. Some varieties of corundum will fluoresce under short wave and long wave UV light if there is enough chromium in the crystal structure but little iron, which tends to quench any emitted energy.
Physical Properties of Corundum:
Mohs Hardness: 9
Specific Gravity: 3.90 to 4.05
Cleavage Quality:None
Fracture: Uneven,Conchoidal
Optical Properties of Corundum:
Refractive Index: 1.758 to 1.780
Optical Character: Uniaxial/-
Birefringence 0.007 to 0.010
Pleochroism Dichroism: blue - violet-blue and greenish-blue; green - yellowish-green; yellow - pale yellow; purple - violet; orange, yellowish-red - deep crimson.
Dispersion:0.018
Conrundum VS other Gemstones:
Slide Show of the Some Synthetic Corundum Ruby Red gemstones:
Video
Conrundum

Color Chart and Shapes & Size Chart :
OUR ADVANTAGE
---
Factory & Manufacturer since 2008, strong productive ability.

Ensure the large quantity supply of product.

We are one of the largest manufacturers & Suppliers of Loose gemstone in Wuzhou City.

Strict quality inspection:

15 production processes ; 9 inspection processes ; more than 8 experienced QC check ;

Every gemstone has its quality assurance.
GUARANTEE
---
30 days return Policy without using and damage of the stones;

Bulk product quality is not same as samples;

Merchandise are not same as the order list;
To Enquiry the item you're browsing, Please fill in the message form below: