Lab Created Green Tourmaline, Green Spinel Gemstones Wholesale at factory price from China Supplier and manufacturer

What's Green Tourmaline Gemstones?
Green tourmaline is a type of green crystal and is part of the tourmaline family, which also features colors such as red, yellow, blue, colorless and even black. Green tourmaline is considered to be the most common tourmaline gemstone, and is considered the classic color of the gem. Green tourmaline stones feature a wide range of shades within the green color range. While some of these gemstones feature a darker bottle green color, others stones can range from a very light green to a yellowish green, or olive color. Certain green tourmaline stones feature a blue-green or darker green color. Green tourmaline featuring the blue-green colors are considered to be the most favored colors and are increasingly rare compared to other shades of the gemstone.

In certain jewelry settings the green tourmaline gemstone can often appear similar to the green emerald stone. The stone features a very high clarity rating as a type 1 and also has a trigonal crystal structure. The green tourmaline is rated a 7.5 for hardness on the Mohs scale, which is considered to be a good level of hardness. This means the stone is resistant to scratches as well as other abrasions. Green tourmaline is considered to be lustrous and very refractive. The stone can be located in mines in Brazil, Pakistan, Madagascar, Afghanistan, Nigeria as well as across the United States of America. 

The green tourmaline stone, in its more valuable colors, is considered to be rare and favorable between both jewelers as well as gem stone collectors. Because of the stones hardness as well as its vibrant colors, it is used very often in all different kinds of jewelry applications. Some believe that the green tourmaline stone as powers that help to protect the owner from misfortune, as well as strengthen the spirit and body.
What's the value of Genuine Natural green tourmaline ?
Most expensive are the Paraíba tourmalines, which may reach tens of thousands of dollars per carat. Chrome tourmalines, rubellites and fine indicolites and bi-colors may sell for as much as $1000/ct. or more. Other varieties are available for prices between $50–750/ct., depending on the richness of the color. It's not eveyone can afford such an expensive price to buy the Genuine Natural green tourmaline,  So, the Lab Created green tourmaline is the best alternative for the jewelry designs.  The pricing is less than USD 10 to buy 1 carat size round stone. 
Where to buy Synthetic/Lab created green tourmaline?
You're come to the right place, FU RONG GEMS offer high quality of Synthetic/Lab created green tourmaline at factory direct pricing. we manufacture the Lab created green tourmaline stones in all the popular shapes and sizes. 
What's the lab created green tourmaline Gemstones?
The material of lab created green tourmaline is the Spinel, green color spinel stones belongs to the Spinel Family stone. 
Synthetic Lab Created Green Tourmaline Spinel Gemstones: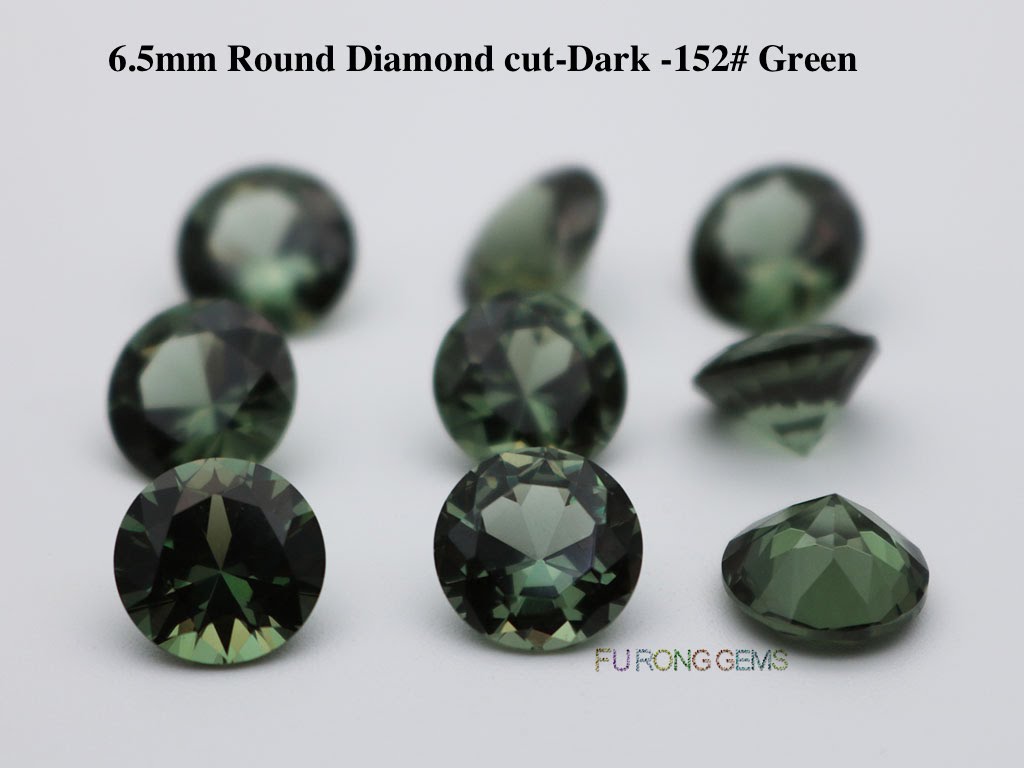 Lab Created Green Tourmaline Spinel Gemstones in Dark color and Medium color:
Spinel Colors:
---
Slide Show of the Spinel Color Chart 6mm Round gemstones:
Click the following Color Chart and Shapes & Size Chart to learn More.
OUR ADVANTAGE
---
Factory & Manufacturer since 2008, strong productive ability.

Ensure the large quantity supply of product.

We are one of the largest manufacturers & Suppliers of Loose gemstone in Wuzhou City.

Strict quality inspection:

15 production processes ; 9 inspection processes ; more than 8 experienced QC check ;

Every gemstone has its quality assurance.
GUARANTEE
---
30 days return Policy without using and damage of the stones;

Bulk product quality is not same as samples;

Merchandise are not same as the order list;
To Enquiry the item you're browsing, Please fill in the message form below: