Synthetic Blue Sapphire Gems, Synthetic Lab Created Ruby Gems, Synthetic Alexandrite, Synthetic White Sapphire, Pink Sapphire,Synthetic Corundum Gemstones China Wholesale and Suppliers
What is Corundum and What are its Basic Qualities?
A: Corundum is an aluminum oxide that commonly forms hexagonal barrel-shaped prisms that taper at both ends or as thin tabular hexagonal plates. It has a hardness of 9 on the Mohs scale, making it one of the most durable commercial gemstones. It has no dominant cleavage and fractures in a conchoidal manner. A high density of ~4.0 g/cm3 (most silicate minerals are ~2.6 g/cm3) results in corundum occurring in secondary placer deposits and recoverable by panning methods, similar to how you would recover placer gold.
Corundum comes in all colours of the rainbow but is most commonly found as opaque crystals with dull colours. Red corundum is called ruby, blue corundum is called sapphire, and all other colours are called fancy sapphires. Some varieties of corundum will fluoresce under short wave and long wave UV light if there is enough chromium in the crystal structure but little iron, which tends to quench any emitted energy.
Physical Properties of Corundum:
Mohs Hardness: 9
Specific Gravity: 3.90 to 4.05
Cleavage Quality:None
Fracture: Uneven,Conchoidal
Optical Properties of Corundum:
Refractive Index: 1.758 to 1.780
Optical Character: Uniaxial/-
Birefringence 0.007 to 0.010
Pleochroism Dichroism: blue - violet-blue and greenish-blue; green - yellowish-green; yellow - pale yellow; purple - violet; orange, yellowish-red - deep crimson.
Dispersion:0.018
Usually, There're 3 kinds of popular Corundum Stones for Jewelry use, one is Synthetic Lab Blue Sapphire, Synthetic Red Ruby, and Synthetic Lab Alexandria Gems,
---
The following colors are the popular color of Corundum Gemstones.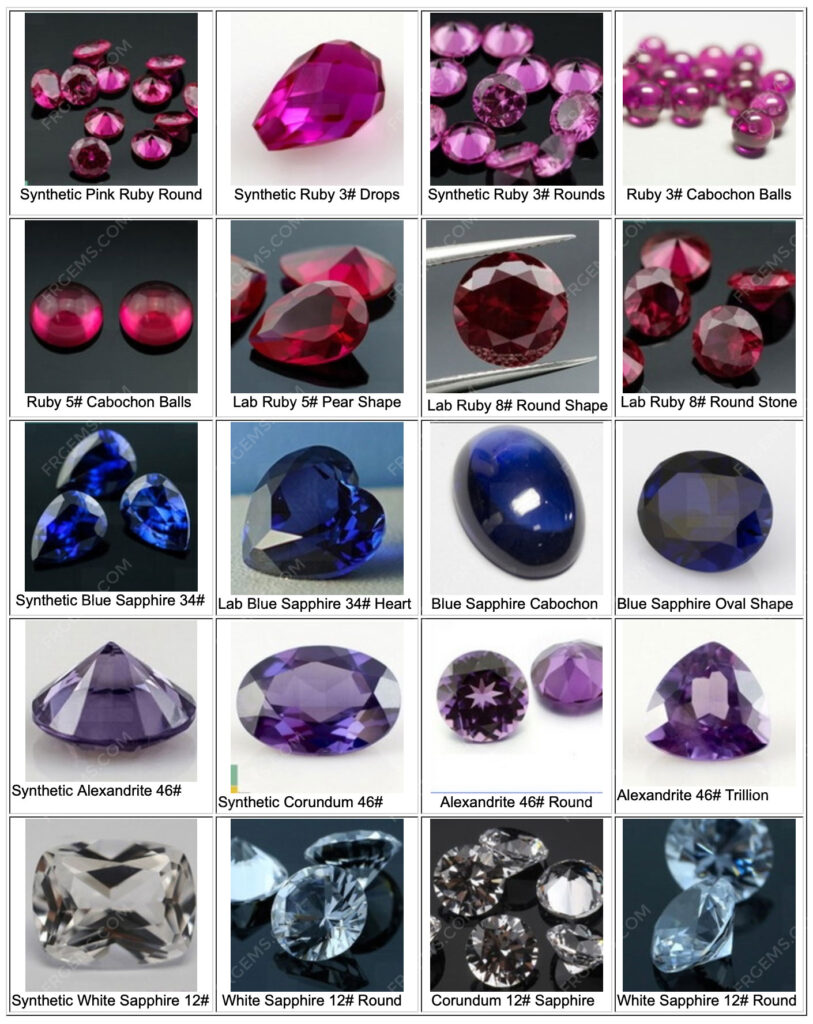 Slide Show of the Some Corundum Popoular Colors gemstones:
Video
Popular Colors of Corundum gemstones and Spinel Gemstones
Click the following Color Chart and Shapes & Size Chart to learn More.
OUR ADVANTAGE
---
Factory & Manufacturer since 2008, strong productive ability.

Ensure the large quantity supply of product.

We are one of the largest manufacturers & Suppliers of Loose gemstone in Wuzhou City.

Strict quality inspection:

15 production processes ; 9 inspection processes ; more than 8 experienced QC check ;

Every gemstone has its quality assurance.
GUARANTEE
---
30 days return Policy without using and damage of the stones;

Bulk product quality is not same as samples;

Merchandise are not same as the order list;
To Enquiry the item you're browsing, Please fill in the message form below: