Dear customers,
In order to make it easier for your purchase of the gemstones, please check the pictures of the stones in the following CZ color charts. and let us know the exact colors & color # when you're sending the enquiry/email. 
Thanks for your cooperation. 
The colors of stones looks different due to the different light/environment to take these pictures. If you're not sure the colors are the ones you're looking for, it's better to buy the color charts or samples to check the colors personally.  or ask our Sales to send you more pictures of the stones to check.
There're Regular colors and

Premium colors

for the Cubic Zirconia Stones: 
CZ Regular colors: 

(CZ01 -CZ28)



White, Black, Pink, Rose Pink, Golden Yellow, Canary Yellow,Lavender,Amethyst, Champagne,Orange,Violet, Garnet Red, Olive Yellow, Peridot
Premium Colors:

(CZ29 -CZ52)
Rhodorite/Smoky,Tanzanite, Emerald Green, Aqua and Swiss Blue, Apple Green,Light Pink, Coffee Brown,Blue Zirconia, Fancy Canary Yellow, Diamond Imitated Color,

And there're 3 color shades for these colors, light, Medium and Dark. 
Usually, the Medium color Shade are the most poplar ones.  If customer doesn't request for the color shades,

we are always send the stones in medium color shades, Please Attention.
Loose Cubic Zirconia Color Latest charts 2021:
---
Cubic Zirconia Sample Box (6mm round) for Sale: 

$25
For more pictures of the stones in this Box, please refer to the Google album. (Click this picture to the link)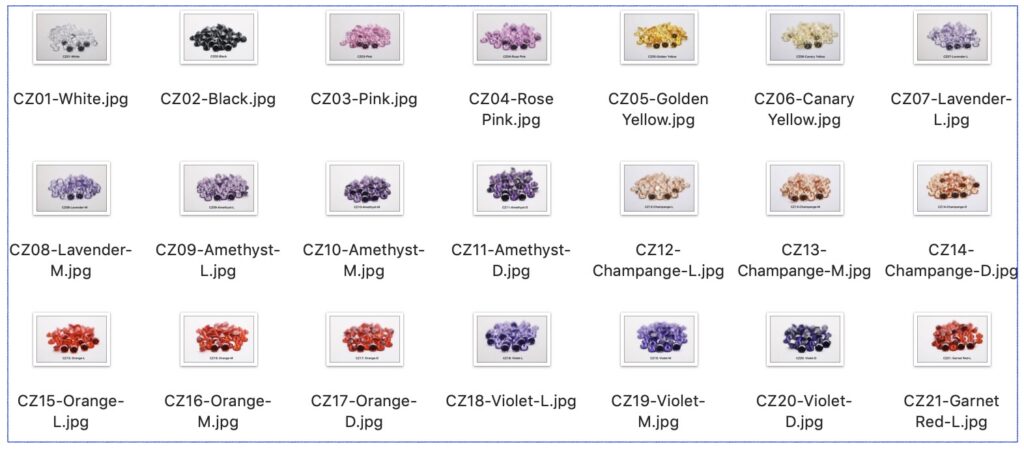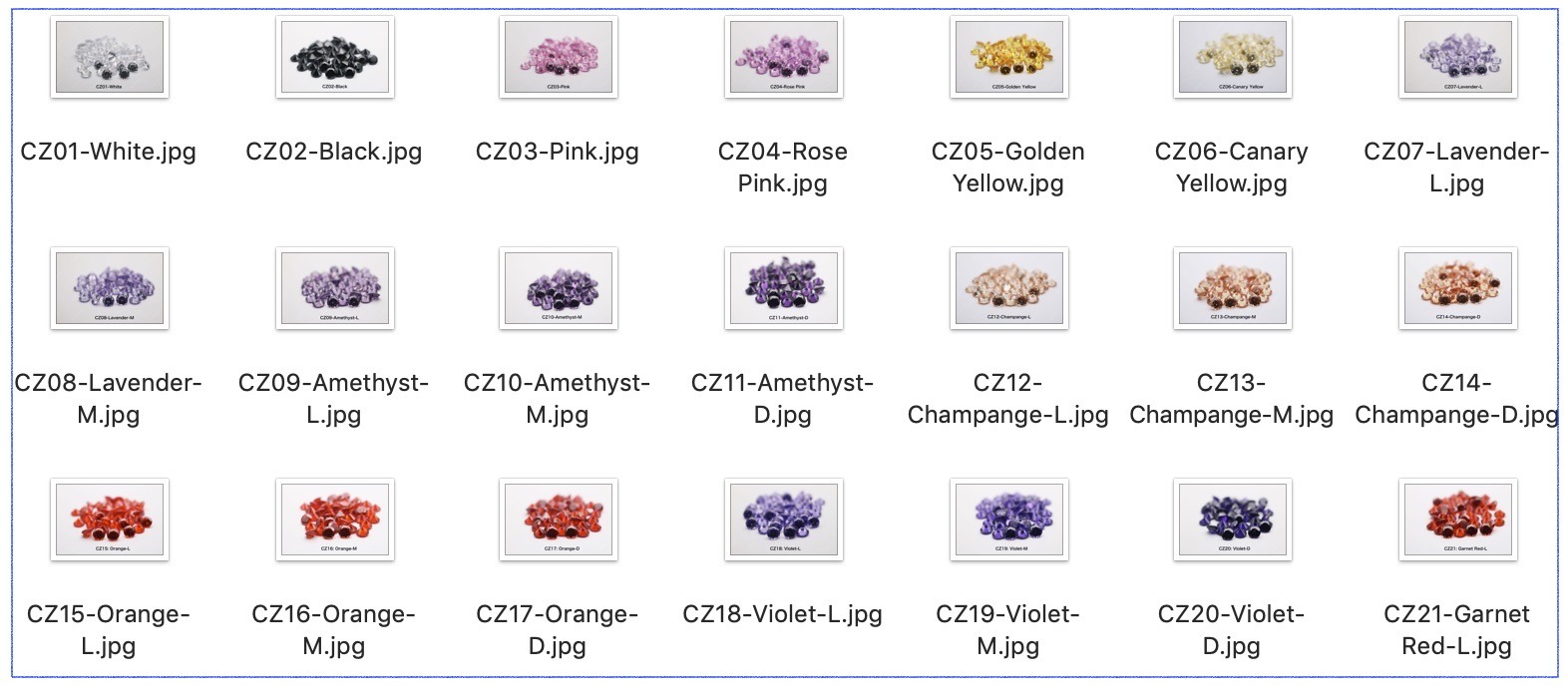 ---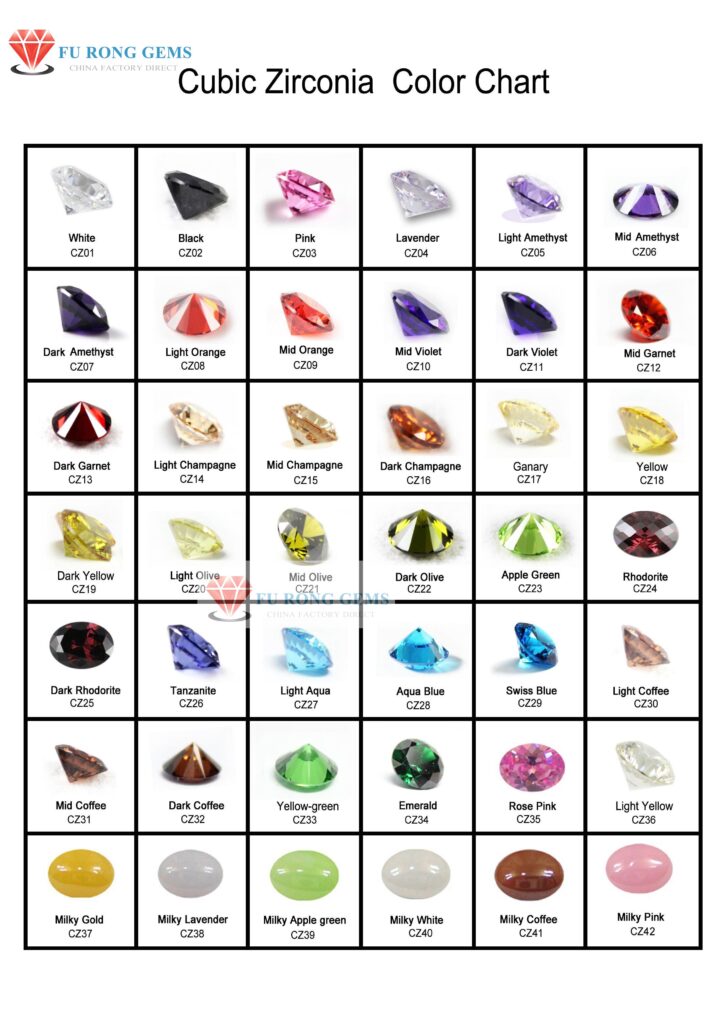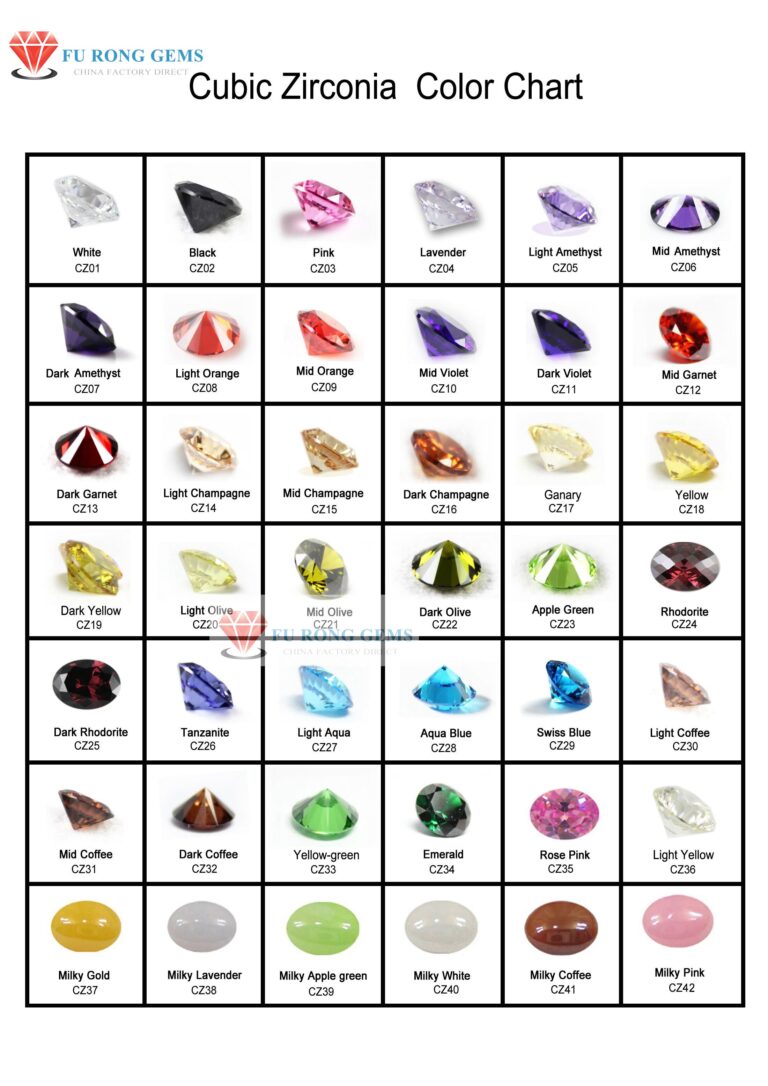 The following are the color chart for sell:
This color chart set with the Popular colors of Cubic Zirconia stones, Corundum, spinel gemstones and Nano gemstones. It's made of Acrylic, set with the real 6mm round colored gemstones in it.
You can buy it if you're interested in it.
Click the Colors Name to check the colors you're interested in.