Moissanite has a color grading of DEF GH IJK, DEF Color are considered colorless by GIA standards. 
The diamond color system was never intended for moissanite. However, many of our customers continue to reference diamonds when describing the color of moissanite. In short, Forever One is comparable to diamonds of D-E-F color. Forever Brilliant is G-H, and Forever Classic is I-J-K.
Moissanite is a clear stone that picks up a wider range of light colors and reflections than a diamond. It can be near colorless to slightly warm, with a variety of undertones when the light hits it a certain way.    
Usually, there're

Four color & quality grades

for Our Moissanite Stones:
D Color: 3Ex Cut, Colorless (Supernova), Clarity: VVS
EF Color: Excellent Cut, Super White (Forever One), Clarity:VVS-VVS1
GH Color: Nice Cut, Clarity:VVS1-VVS2
IJ Color: Nice Cut, Clarity:VVS1-VVS2


HD Video: Loose Moissanite 6.50mm 1 ct stone D Color VS GH VS IJ color comparison
Loose Moissanite Color Gemstones Chart:
Original colors: Blue, Teal Green Medium, Teal Green Light, Emerald Green, Champagne Dark, Champagne Medium, Champagne Medium,
Black, Gray Dark, Gray Light-Medium, Gray Blueish, Olive Yellow-Medium and Dark
Coated colors: Gold/Lemon Yellow, Pink, Garnet Red, Rose Pink, Amethyst, Violet, Mystic Green, Swiss blue and more
What's meaning of Original Colors of Moissanite Stones?
Original colors means, the color is original colors without any coated/Plating.The Original color of Moissanite won't change over time. It's a stone that is essentially as stable, and durable, as diamond. The brilliance of the ring could dull and diminish with time, due to dirt and oil build-up, but that can easily be washed away to restore the ring to its former brilliance.
Moissanite Orignal Colors: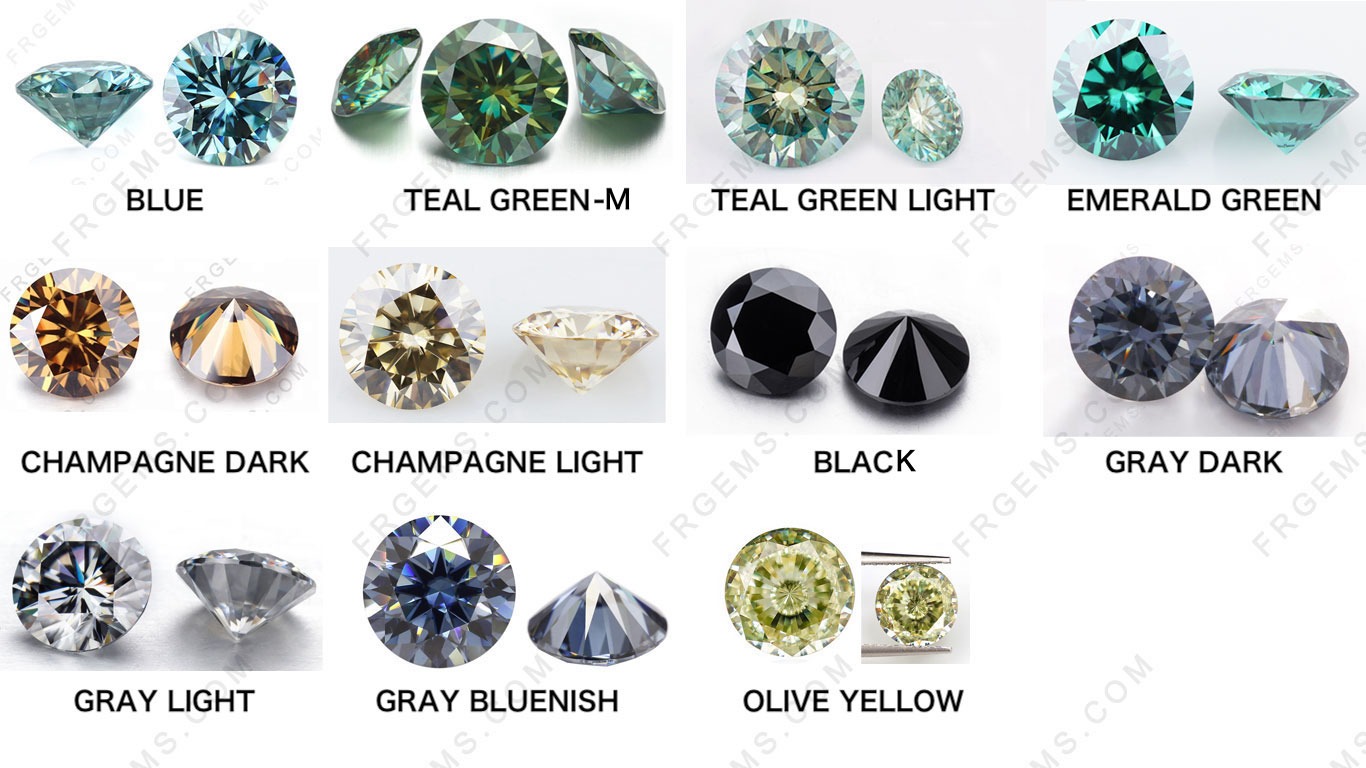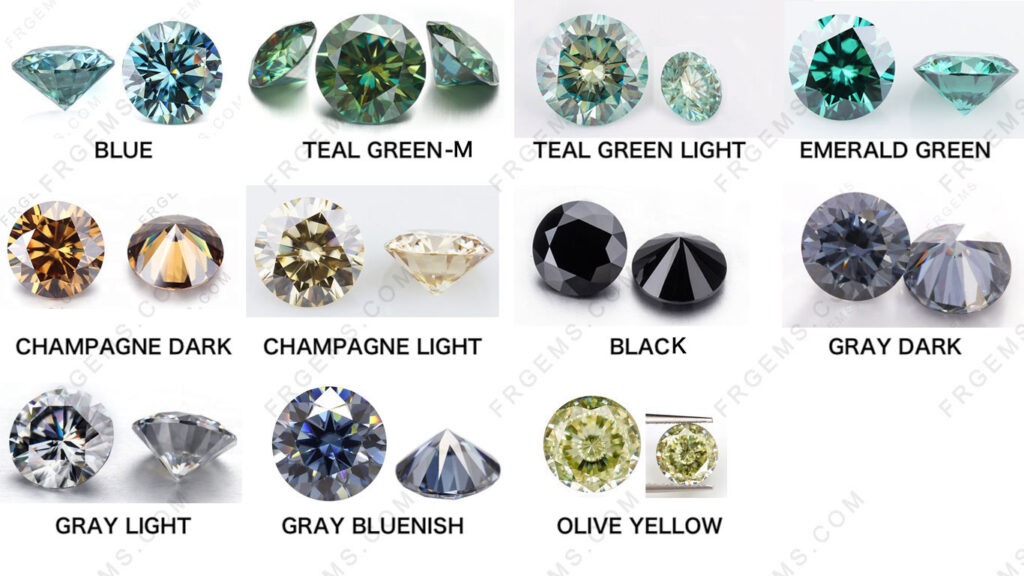 Moissanite Coated Colors:

---
Video of Some Colored Moissanite Gemstones:
What's meaning of Coated Colors of Moissanite Stones?
A gemstone which is covered by an artificially applied transparent material or mineral to enhance its colour and appearance, is known as a coated gemstone.
The technique is often used with coloured Topaz to create Mystic Topaz, and colourless Quartz is turned into Mystic Quartz using the same process. Now it's the same kind of technique can be used in Loose Moissanite stones.

Does Coated color Moissanite change color over time?
The color won't be changed unless it's washed by the Acid base liquid.
Moissanite Shapes/Cuts & MM size Chart:
---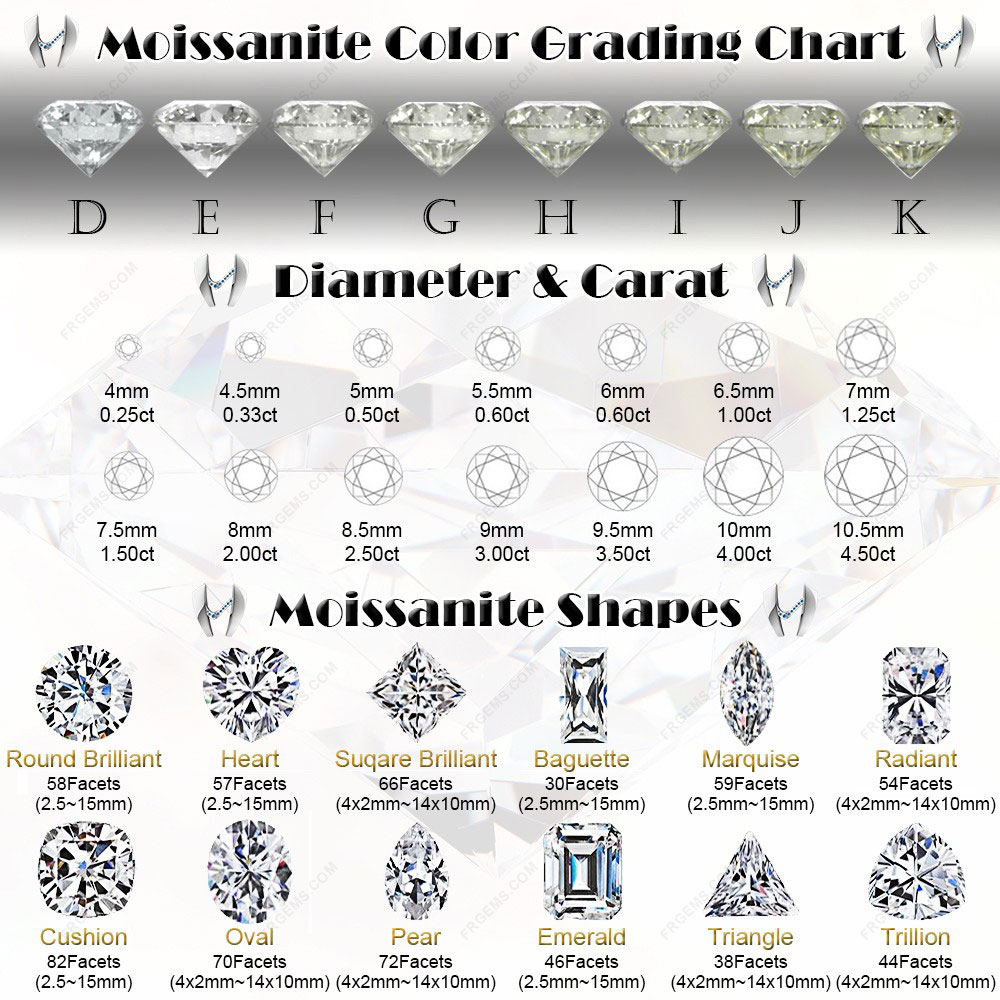 For more details about the Loose Moissanite Diamond Gemstones, please click this link to learn more. https://www.frgems.com/loose-moissanite-gemstone-suppliers
And feel free to Contact us for help if you have questions/requirements.