High quality of Loose Lab Corundum Synthetic White Sapphire Color Pear Shaped Faceted 8x5mm Gemstones Wholesale from China Suppliers and manufacturers.
Also called as Synthetic White Sapphire, White Corundum, Lab White/Colorless Sapphire,
--Material: Corundum Colors: # 12
Pictures
---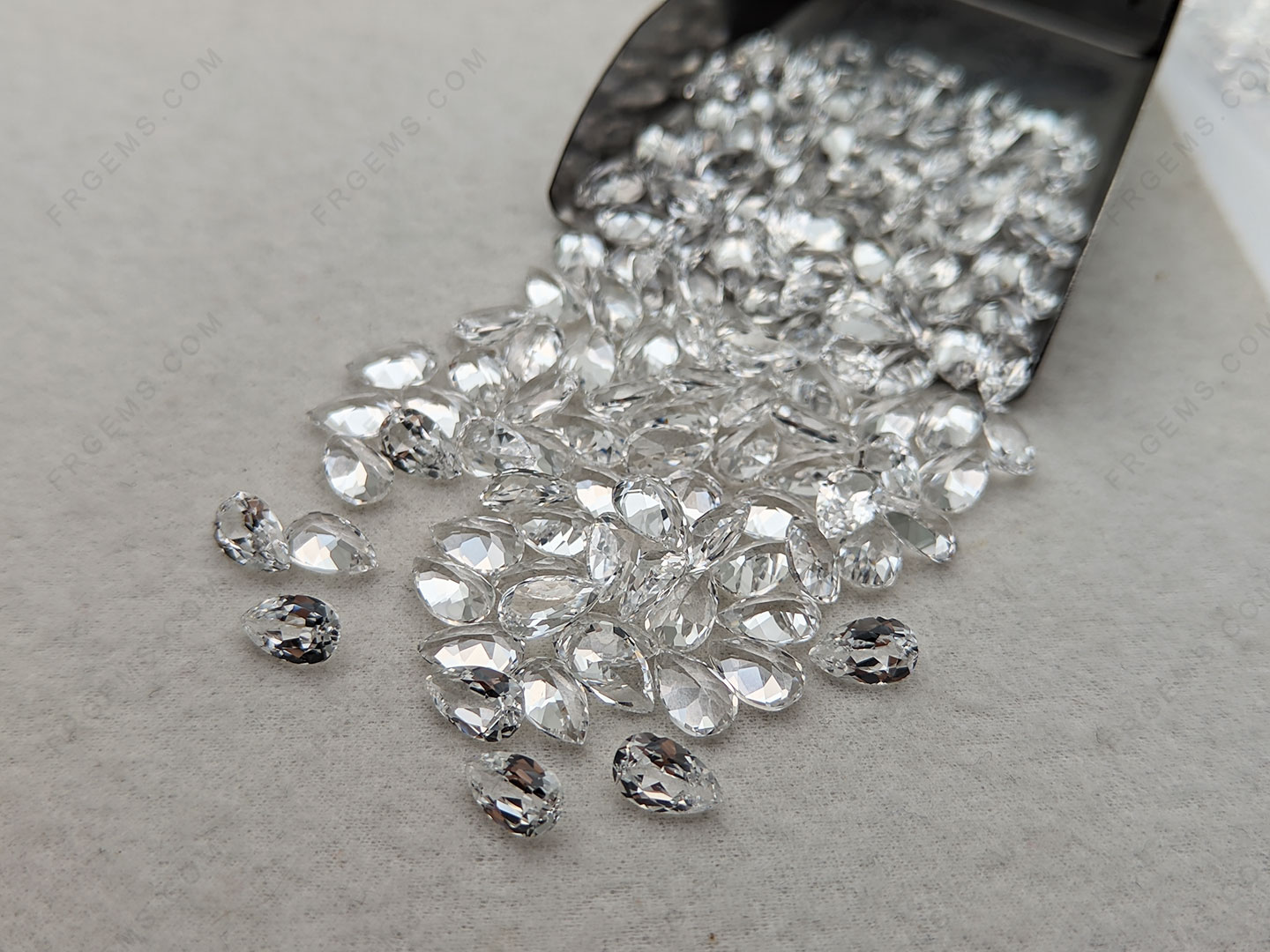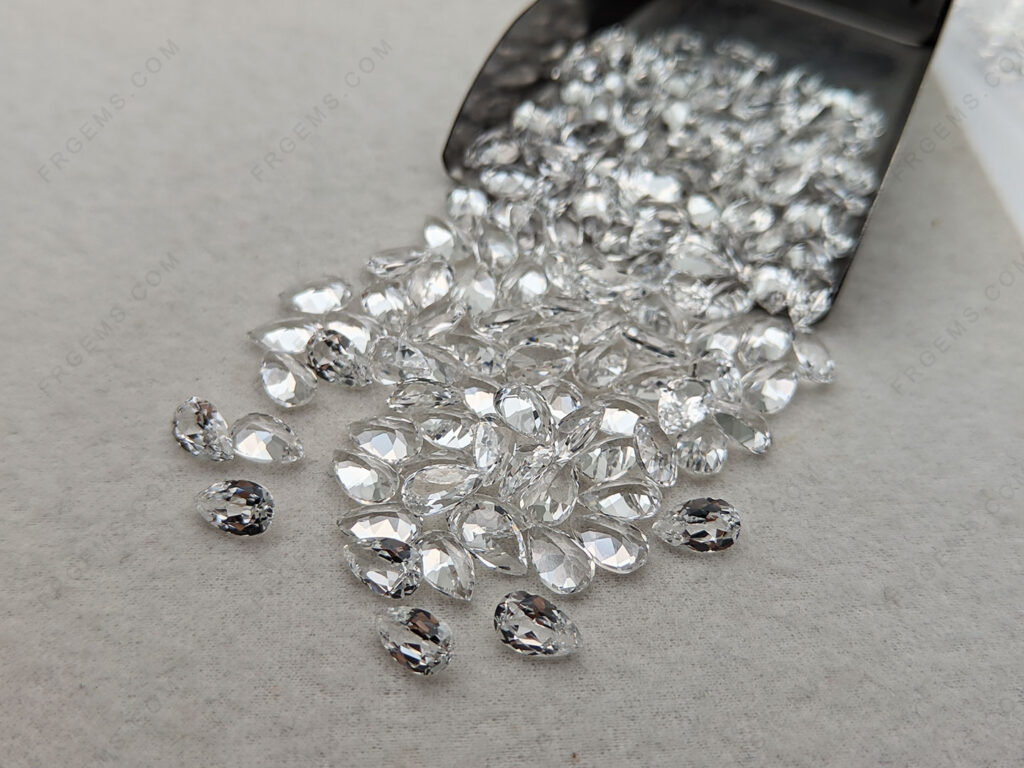 Introduction to the Meaning and Uses of White Sapphire stones:
The enduring and alluring Sapphire forms in more colors than just the legendary blue. Each color exhibits its own unique metaphysical properties and vibrational patterns, yet all are Stones of Wisdom. They honor the higher mind, bringing intuition, clarity and self-mastery. Worn throughout the ages for protection, good fortune and spiritual insight, Sapphires are not only symbols of power and strength, but also of kindness and wise judgment.
White Sapphire Gemstones brings wisdom and strength of spirit. It carries an extremely pure energy for clarity of thought and opening the powers of the mind. Through the Crown Chakra, White Sapphire strengthens communication with the Higher Self level of consciousness in seeking spiritual guidance for this lifetime, and brings the resolve needed to overcome obstacles to one's spiritual path. It is beneficial in revealing one's talents and potential, and inspires living with integrity and keeping true to one's ideals when faced with difficult choices or circumstances. 
Sapphire is a variety of Corundum, an aluminum oxide mineral that forms in prismatic tabular, bipyramidal or rhombohedral crystals, as well as granular or massive habits, and may be transparent to opaque. The name Corundum is of Indian origin, derived from the Sanskrit korundand applied to opaque massive gems, generally of a dull color. With the exception of Red Corundum, which is Ruby, all other colors of Corundum are Sapphires. [Simmons, 339][www.mindat.org][Fernie, 140]
White Sapphire, also known as "Leucosapphire," is actually colorless and the purest form of Corundum, lacking additional trace minerals that color other Sapphires. It is less in demand than other Sapphires and reasonably inexpensive, and is often used as a Diamond substitute, usually as smaller stones with good clarity and few visible inclusions. White Sapphire Gemstones can occur in almost any Corundum deposit, but gem-quality stones are exceedingly rare. 
We have quite a collection of Lab Created White Sapphire Corundum Loose Stones such as popular Round Brilliant Cut,Princess Cut,Emerald Cut,Cushion Cut and also unique heart, Oval,Octagon,Marquise, Pear,Star Cuts and Much More...
---
What is Corundum and What are its Basic Qualities?
A: Corundum is an aluminum oxide that commonly forms hexagonal barrel-shaped prisms that taper at both ends or as thin tabular hexagonal plates. It has a hardness of 9 on the Mohs scale, making it one of the most durable commercial gemstones. It has no dominant cleavage and fractures in a conchoidal manner. A high density of ~4.0 g/cm3 (most silicate minerals are ~2.6 g/cm3) results in corundum occurring in secondary placer deposits and recoverable by panning methods, similar to how you would recover placer gold.
Corundum comes in all colours of the rainbow but is most commonly found as opaque crystals with dull colours. Red corundum is called ruby, blue corundum is called sapphire, and all other colours are called fancy sapphires. Some varieties of corundum will fluoresce under short wave and long wave UV light if there is enough chromium in the crystal structure but little iron, which tends to quench any emitted energy.
Physical Properties of Corundum:
Mohs Hardness: 9
Specific Gravity: 3.90 to 4.05
Cleavage Quality:None
Fracture: Uneven,Conchoidal
Optical Properties of Corundum:
Refractive Index: 1.758 to 1.780
Optical Character: Uniaxial/-
Birefringence 0.007 to 0.010
Pleochroism Dichroism: blue - violet-blue and greenish-blue; green - yellowish-green; yellow - pale yellow; purple - violet; orange, yellowish-red - deep crimson.
Dispersion:0.018
Conrundum VS other Gemstones:
Conrundum

Color Chart and Shapes & Size Chart :
OUR ADVANTAGE
---
Factory & Manufacturer since 2008, strong productive ability.

Ensure the large quantity supply of product.

We are one of the largest manufacturers & Suppliers of Loose gemstone in Wuzhou City.

Strict quality inspection:

15 production processes ; 9 inspection processes ; more than 8 experienced QC check ;

Every gemstone has its quality assurance.
GUARANTEE
---
30 days return Policy without using and damage of the stones;

Bulk product quality is not same as samples;

Merchandise are not same as the order list;
To Enquiry the item you're browsing, Please fill in the message form below: