Antique Cushion cut Loose Moissanite D EF color Faceted cut

Loose

gemstone wholesale at factory price from China Suppliers and Manufacturer.
PICTURES
VIDEO
---
---
Something about Antique Cushion
Antique Cushion cut Moissanite diamond is a classic and timeless jewel. Its pillow-shaped outline, softly rounded corners, small table, high crown, and large open culet are easily distinguished from other Moissanite diamond cuts. No other Moissanite diamondcut can replicate the Antique Cushion's prized mix of checkered brilliance and extreme dispersion.
Antique cushions are extremely rare. At any given moment, there are only a few antique cushions on the market for every thousand modern cushions. An antique cushion is the most desirable diamond cut used in high-end jewelry.
The fire of this precious prism of pure crystallized carbon is stunning during a candlelight dinner. The sparkle and scintillation in pure rays of sunlight leave other diamonds yellow with envy. On an overcast day, it will cradle your finger, permeating a soft glow and reminding you once again that you are loved by someone who knows that you are special.
---
FAQ of Moissanite Antique Cushion cut stones:
1.What is a Antique Cushion Moissanite stones?
Our Antique cushions Moissanite stones are a contemporary version of the Old Mine Moissanite with perfect symmetry and excellent polish. It is the classic cushion cut that ruled the world until the round brilliant-cut was developed.
2.What are the special characteristics of an Antique cushion?
An antique cushion diamond always has an open culet. Most antique cushions have a high crown, a small table, and broad facets that are not as thin and stretched as modern ones. The traditional pillow-shaped outline conveys the appeal of a bygone era when diamonds were cut to burst alive with intense fire under the romantic glow of candlelight. In addition, antique cushions' high-contrast faceting mutes the color perception, expanding the number of stones perceived as white.
3.Are the Antique cushions more expensive?
True Antique cushion Moissanite and other premium cuts like an Asscher are slightly more expensive than the rest of the fancy shapes.
Cutting antique cushion Moissanite requires specialized knowledge, tools, equipment, and techniques because of their extreme difficulty. It takes on average 30% longer to cut an antique cushion Moissanite. The same piece of rough yields about a 10-15% smaller antique cushion than a modified cushion. Our Antique cushions Moissanite are premium stones that command higher prices due to their exceptional beauty, higher production cost, and scarce inventory.
4.Are the Antique Cushions square or elongated?
Pillow shaped diamonds antique cushions They can be both. Our Antique Cushion Moissanite are cut in various grades, sizes, and proportions. The type of rough predetermines the shape and the ratio finished stones have.
5.Are The Antique Cushions better than other cushions?
Cushion cut comparison modern vs antiqueA proper balance between brilliance and dispersion is the hallmark of every True Antique cushion Moissanite. It is the authentic cushion cut that fits rigorous geometric and optical requirements. Not every antique cushion can pass the rigorous requirements we bestow upon our stones. Antique cushions do not have the dreaded "Crushed Ice" splintered brilliance found in modern cushions.
---
What Is Moissanite?
Moissanite was first discovered in trace quantities that were carried to Earth from a spectacular meteorite. Possessing fire, brilliance, and luster far greater than that of a diamond, Moissanite stones sparkles unlike any other gemstone on earth. Composed of carbon and silicon, Moissanite is also one of the hardest and toughest known elements on earth, making it extremely resistant to scratching, chipping and breaking. Its durability and incomparable beauty make it an ideal center stone for an engagement ring or jewelry gift. Moissanite Diamonds come in many fancy shapes and sizes and can be used to create a one of a kind Moissanite Ring or used in other unique Moissanite Jewelry.
Moissanite Optical Properties:
Moissanite's characteristic sparkle is more than just a show of beauty - it's a testament to the superior science behind the jewel, boasting more fire, brilliance and luster than any gemstone on earth. This is not merely a sales line, but a scientific and quantifiable fact.


Moissanite is known for its high refractive index of 2.65, which is notably higher than diamond, sapphire, CZ and other gemstones known to be very brilliant. Brilliance is the flashes of white light exiting the top and sides of a gemstone. The higher the refractive index of a gemstone, the more brilliance the jewel emits. Moissanite's superior refractive index makes Moissanite the most brilliant fine gemstone on earth.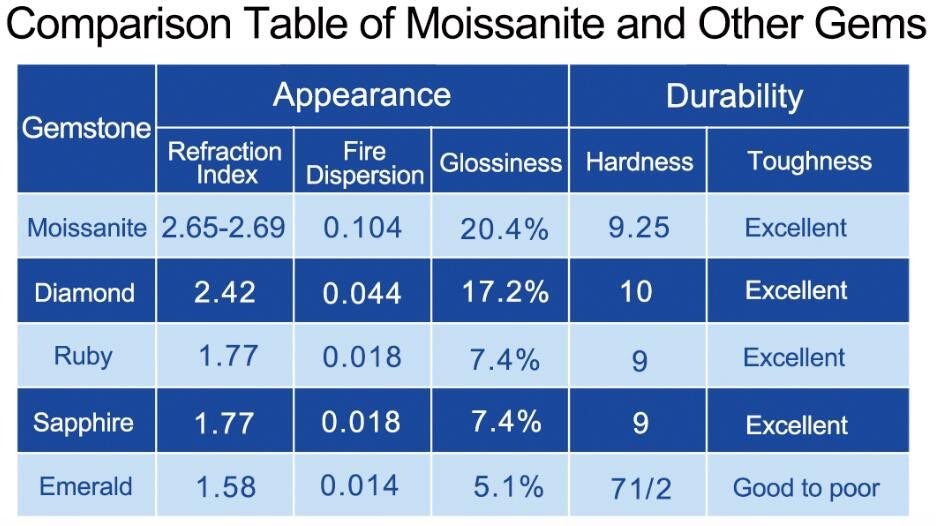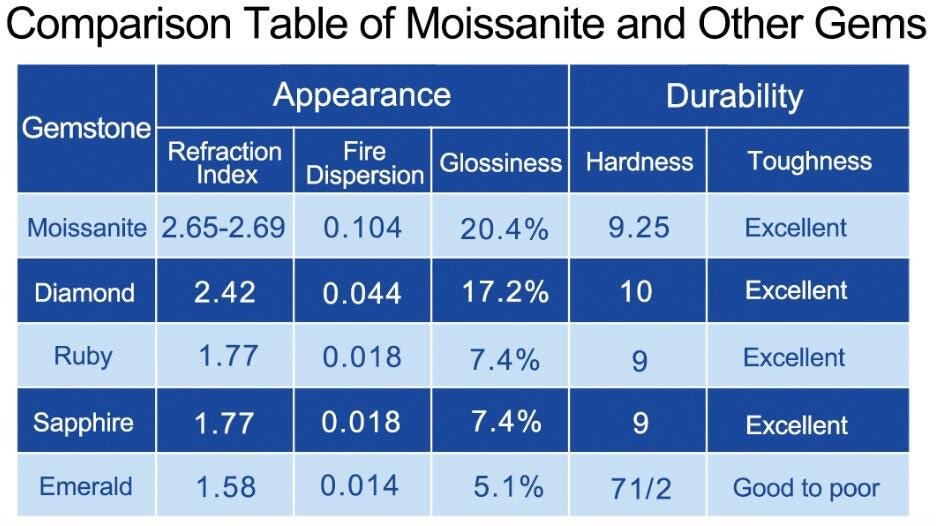 Moissanite's fire, the flashes of colored light, is even more impressive, being more than twice that of a diamond. Luster is the amount of light that is reflected back to the observer from the surface of the gemstone. In addition to superior fire and brilliance, Moissanite has 18% greater luster than a diamond and 50% greater luster than CZ stones.
Loose Lab Moissanite, Synthetic Moissanite, Moissanite Diamond D,EF,GH,IJ and color gemstones with Cheap Wholesale Prices directly from one of the Biggest Factory and Manufacturers in China Wuzhou.
* Factory direct.
* Strict quality control.
* Large Stock available
* Customized is welcome.
*All Photos are 100% real shoot.
Cutting provide: All kinds of popular cuts.
MOQ: 1 Piece
Delivery date: 1-2 days for in stock, 3-7 days for custom order
CERTIFICATE
---
Usually, the Moissanite stones comes with the GRA certificates. With the Certificate # inscription on the Girdle of the stones. (The inscription only can be done for the sizes of stones bigger than 4mm)

OUR ADVANTAGE
---
Factory & Manufacturer since 2008, strong productive ability.

Ensure the large quantity supply of product.

We are one of the largest manufacturers & Suppliers of Loose gemstone in Wuzhou City.

Strict quality inspection:

15 production processes ; 9 inspection processes ; more than 8 experienced QC check ;

Every gemstone has its quality assurance.
GUARANTEE
---
30 days without using and damage of the stones;

Bulk product quality is not same as samples;

Merchandise are not same as the order list;
To Enquiry the item you're browsing, Please fill in the message form below: