9 Hearts and 1 Flower Cut Cubic Zirconia and Moissanite Gemstone China Wholesale & Suppliers from China Manufacturer and Suppliers
Pictures
---
What is 9 hearts & 1 flower Cut?
A: '9 hearts & 1 flower is a new cut of round diamond, from the top table view of the stone, you can see a beautiful 'Flower' which are combined by 9 facets in the center of table. And 9 hearts are combined by 9 Bezel Facets are uniformly surrounding with the table. Apart from the table of gems, all of facets are stepped cut by 9 times. Then the 9 hearts & 1 flower cut stone reveal a beautiful look through the refraction of light.
There're 37 facets for the Crown Part and with 63 facets for the bottom, Total 100 facets with accurate cut nicely.

The unique difference between the '9 hearts & 1 flower' cut and traditional diamond cut is, the '9 hearts & 1 flower' is cut with 100 facets, with more using at 15-17% of roughs than traditional diamond cut gemstones, The FU RONG GEMS's 9 hearts & 1 flower stone are cut by our experienced & skillful stone cutters, with accurate machine & nicely hand cut, and it takes more than one time to cut a regular diamond gemstone.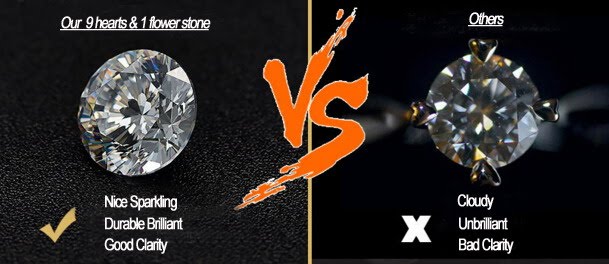 ---
HD Video of 9 Hearts and 1 Flower Cut White Color Cubic Zirconia stones in 20mm
9 Hearts and 1 Flower Cut Normal/Standard Sizes:
5mm, 5.50mm 6.0mm 6.50mm -20mm
Contact us to get a Free Quote for your Ideal Loose Cubic Zirconia 9 Hearts and 1 flower Gemstones from China Suppliers and Manufacturers.
9 Hearts and 1 flower cut can be cut in Moissanite Diamond stones as well.
Popular Shapes/Cuts of Loose Gemstones
OUR ADVANTAGE
---
Factory & Manufacturer since 2008, strong productive ability.

Ensure the large quantity supply of product.

We are one of the largest manufacturers & Suppliers of Loose gemstone in Wuzhou City.

Strict quality inspection:

15 production processes ; 9 inspection processes ; more than 8 experienced QC check ;

Every gemstone has its quality assurance.
GUARANTEE
---
30 days without using and damage of the stones;

Bulk product quality is not same as samples;

Merchandise are not same as the order list;
To Enquiry the item you're browsing, Please fill in the message form below: