Thick girdle Cubic Zirconia, Heavy Loose CZ Round stones
Wholesale at factory direct pricing from China Manufacturer and Suppliers
Pictures
---

Usually, the standard/regular thickness of the girdle for Cubic Zirconia round stones is less 1mm. Now, we can make the Girdle in 10%, 20%,30%, 40%, 50% of thicker girdle for the round stones. Then the total height of the stones will be higher, then the stones will be at a heavier weight.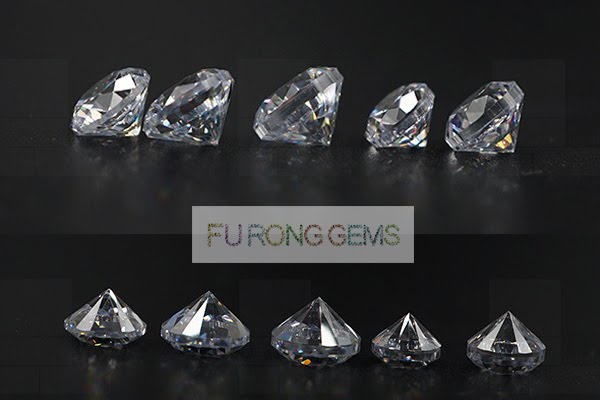 The Thick Girdle can be made in Round diamond cut and Hearts & Arrows Cubic Zirconia Stones.
Heavy Loose CZ Round diamond cut stones in Emerald Green color:
Another way to increase the weight of stone is to make the height of stones in higher measurement.
The standard/regular height of the Cubic Zirconia round diamond cut stones is 58-62% of the size.
We can make the customized height for the CZ stones.
Heavy Loose CZ Round Star 8 hearts and 8 Arrow stones with customized height.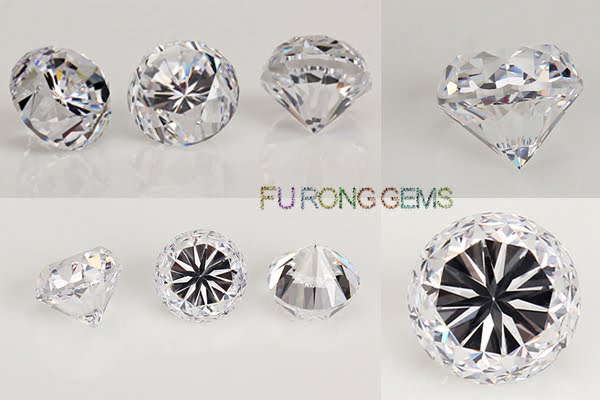 Thin and Thick Girdle Gemstones knowledge,
The girdle can impact the gemstones in two important ways:

A thick girdle (right) adds weight to a diamond.The diamond on the right is heavier, yet will appear no larger when set in a ring.
The thickness of the girdle affects the relative position of the surrounding facets, and so can impact cut. Because girdle width is already factored into the diamond's overall cut grade, a diamond graded as well cut will produce superior brilliance, fire, and scintillation, even if the girdle itself is not in the ideal Thin-Slightly Thick range of width.

A thicker girdle will add weight to a diamond, thereby increasing its price. Since a thick girdle adds depth to a diamond but not width, a thick girdled diamond will not appear any larger when viewed from the top (e.g. when set in a piece of jewelry), despite the additional carat weight. The effect on carat weight and price is minimal, but real.
Heavy Loose CZ Round diamond cut stones in Emerald Green color:
OUR ADVANTAGE
---
Factory & Manufacturer since 2008, strong productive ability.

Ensure the large quantity supply of product.

We are one of the largest manufacturers & Suppliers of Loose gemstone in Wuzhou City.

Strict quality inspection:

15 production processes ; 9 inspection processes ; more than 8 experienced QC check ;

Every gemstone has its quality assurance.
GUARANTEE
---
30 days without using and damage of the stones;

Bulk product quality is not same as samples;

Merchandise are not same as the order list;
To Enquiry the item you're browsing, Please fill in the message form below: