Tapered Baguette Cut Cubic Zirconia and Synthetic Gemstones Wholesale from China Suppliers and manufacturers.

(For loose cubic zirconia,lab created sapphire,ruby,spinel and other Natural or Synthetic Gemstones)
Tapered Baguette Cut:
Tapered Baguette gemstones add a unique and beautiful look in gemstone jewelry, especially as side gems in a ring. The classic look of Tapered Baguette side gems is when the larger of the parallel sides is oriented next to the center gem, so that the baguette becomes thinner as it is farther from the center. This accentuates the center gemstone, making it appear larger, as well as makes the finger appear thinner.
At FU RONG GEMS we are excited to offer an incredible array of standard size colored gemstones in the Tapered Baguette shape, including Cubic Zirconia Gemstones, Synthetic Created Gemstones or Natural Gemstones.
A colored gemstone Tapered Baguette is a great choice for adding a unique splash of color to your engagement ring. If you like the traditional diamond in the center, but also want some color and funkiness, a colored gemstone Tapered Baguette is a great way to achieve that look.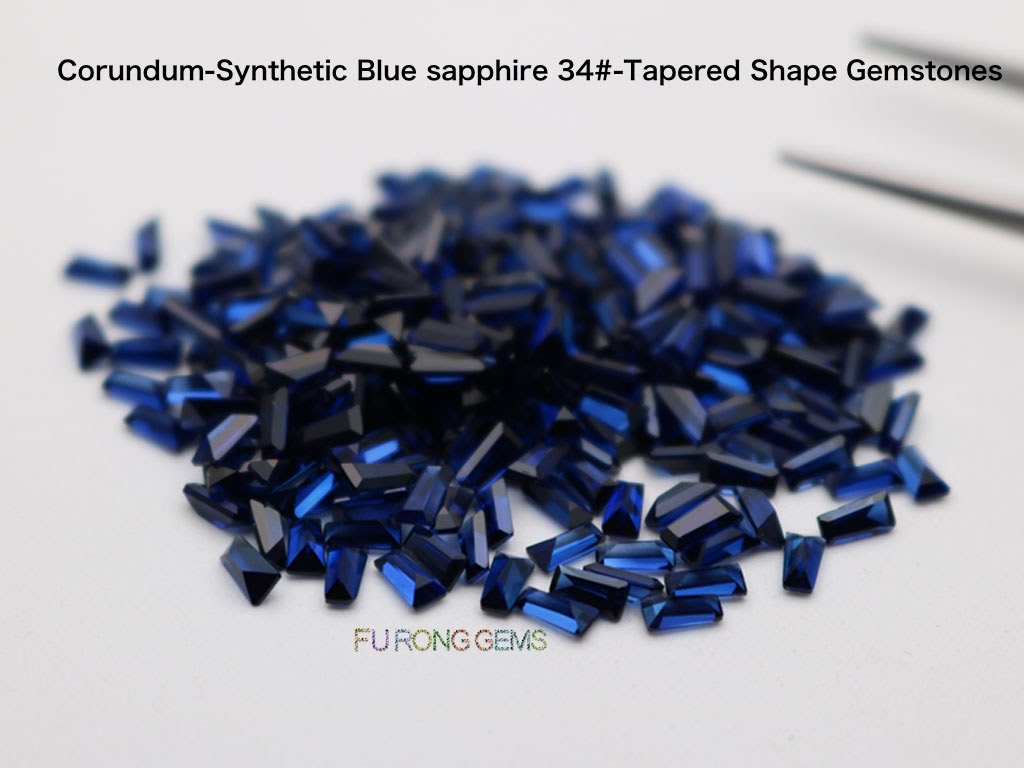 At Fu Rong Gems, you can buy Tapered Baguette Cut gemstones at Wholesale Direct Factory prices from the Real China Professional Manufacturer and Supplier.Check our Website to choose Your Ideal Tapered Baguette Cut Loose Cubic Zirconia stones,Tapered Baguette Cut Lab Created Gemstones such as Sapphire,Aqua,Ruby and Alexandrine stones. All Asscher Cut gemstones are wholesale directly from China.
Tapered Baguette Cut in Cubic Zirconia Colored Gemstones:
The following are the regular sizes of Tapered Baguette Cut Cubic Zirconia stones:
1.8x1.6x1.4  1.25x1.5x2.75  1.1x1.8x2  1.3x1.6x2.1
1.8x1.5x1.25  1.25x1.5x2.5 1.5x1.75x2.75 1.1x1.6x2
1.5x1.25x1  1x1.5x2.25 1.25x1.75x2.2 1.2x1.6x2.2
1.9x1.9x1.5  1.3x1.8x2.60 1x1.8x2.5 1.2x1.6x2.3
1.6x1.6x1.25 0.8x2x1.5 0.8x1.8x2 1x1.6x2.2
1.8x1.8x1.5 1x1.5x2 1.3x1.8x2.8 1.2x1.8x2.3
1.8x1.25x1 1x1.5x2.4 1.2x1.8x2 1.5x1.75x2
1.8x1.20x1 1.25x1.75x2.75 1x1.7x2 1x1.9x2.2
1x1.5x2.5 1.5x1.75x2.2 1.5x1.6x2.6
Learn About The Tapered Baguette Shape in Depth
HD Video of Cubic Zirconia Tapered Baguette Cut Loose Gemstones:
Contact us to get a Free Quote for The high quality of Tapered Baguette Shape Cut Loose CZ Stones,Created Gemstones from China Wuzhou Supplier and Manufacturer.

Popular Shapes/Cuts of Loose Gemstones
Click the following Color Chart and Shapes & Size Chart to learn More.
Factory & Manufacturer since 2008, strong productive ability.

Ensure the large quantity supply of product.

We are one of the largest manufacturers & Suppliers of Loose gemstone in Wuzhou City.

Strict quality inspection:

15 production processes ; 9 inspection processes ; more than 8 experienced QC check ;

Every gemstone has its quality assurance.
GUARANTEE
30 days without using and damage of the stones;

Bulk product quality is not same as samples;

Merchandise are not same as the order list;
To Enquiry the item you're browsing, Please fill in the message form below: