Loose Cubic Zirconia White Colorless and Colored Gemstones Melee small 0.70-3.00mm round Shape Faceted brilliant Machine Cut Gemstones wholesale at China Suppliers and Manufacturer.
What is a Cubic Zirconia melee stone?
Melee refers to round diamonds that typically weigh less than 0.10ct or 10 points. (0.70-3.00mm) The term melee is used to describe smaller brilliant-cut diamonds as well as all small diamonds that are used in embellishing mountings for larger gems. Melee Round stones are tiny round shape faceted cut stones used in diamond jewelry, often used to accentuate a single center stone on an engagement ring.
FU RONG GEMS offer Cubic Zirconia White color and Colors Melee stones, Lab diamond White Color (DEF and GH Color) Melee stones, and also Moissanite Melee (DEF and GH Color) stones, and also other kinds of Colored Gemstones, such as Corundum, Spinel, Nano colors, there're hundreds of colors for you to choose.
Cubic Zirconia White Color stones is one of most popular choice, due to its close Properties to the Diamond. Sparkling and brilliant are well known elements on earth, Its fries and brilliance and incomparable beauty make it an ideal center stone for the jewelry designs.
Loose CZ White Color Melee stones: We have A, AA, 3A standard quality and 5A best quality for you to choose.
The Cubic Zirconia Colors (Regular colors and premium colors) are also available.
PICTURES
---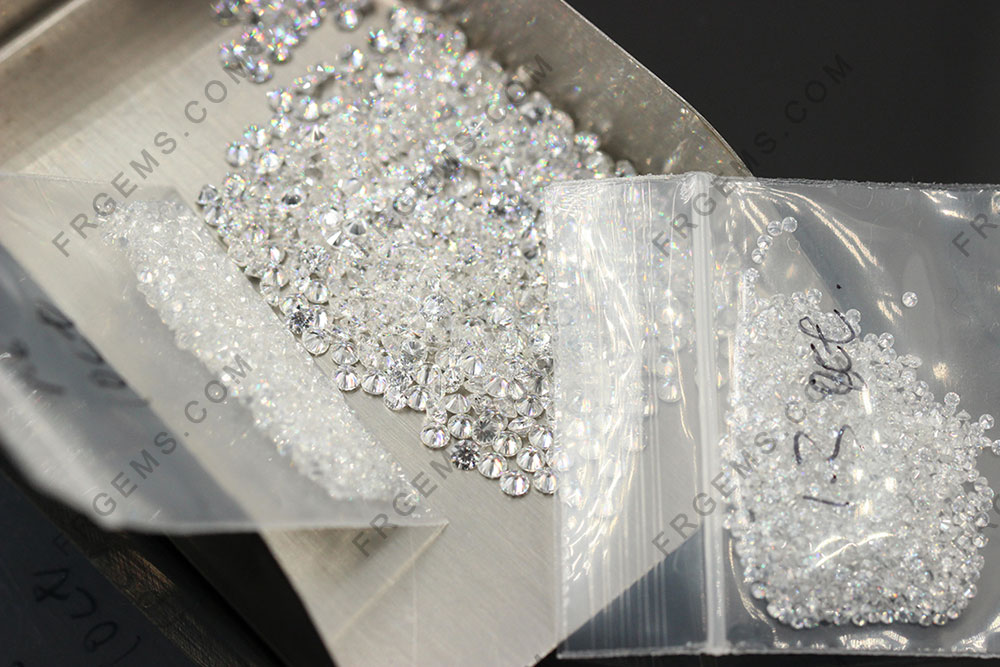 The sizes of Melee round stones is from 0.70-2.90mm.
The sizes are: 0.70mm 0.80mm,0.90mm,1.00mm 1.10mm,1.20mm,1.25mm,1.30mm,
1.4mm,1.50mm,1.60mm to 3.00mm.
Loose Cubic Zirconia Melee Round shape Colored Gemstones:
What Is Cubic Zirconia Stones?
A: Cubic Zirconia (or CZ) is zirconium oxide (ZrO2 ), is widely synthesized for use as a diamond simulant and it is a lab made created stone with a specific gravity of between 5.6-6.00 and at about 8.5 hardness on Mohs scale, which is harder than most natural gems.
VIDEO
You might be interested in the following Melee Machine Cut stones as well:
Moissanite  DEF and GH Color Melee Round Machine Cut
Nano crystal,Corundum and Spinel Melee stones.
---
CUBIC ZIRCONIA COLORS
There're

Regular colors

and

Premium colors

for the Cubic Zirconia Stones:
CZ Regular colors: (CZ01 -CZ28) White, Black, Pink, Rose Pink, Golden Yellow, Canary Yellow,Lavender,Amethyst, Champagne,Orange,Violet, Garnet Red, Olive Yellow, Peridot
Premium Colors: (CZ29 -CZ52) Rhodorite/Smoky,Tanzanite, Emerald Green, Aqua and Swiss Blue, Apple Green,Light Pink (US Rough), Coffee Brown (Yellowish and Reddish),Blue Zirconia, Fancy Canary Yellow (US Rough), Diamond Imitated Color,
(Premium means: The cost of the rough is higher, so the price of CZ Premium Color stones is higher than Regular colors.)
Click the Colors Name to check the colors you're interested in.
Click the following Color Chart and Shapes & Size Chart to learn More.
OUR ADVANTAGE
---
Factory & Manufacturer since 2008, strong productive ability.

Ensure the large quantity supply of product.

We are one of the largest manufacturers & Suppliers of Loose gemstone in Wuzhou City.

Strict quality inspection:

15 production processes ; 9 inspection processes ; more than 8 experienced QC check ;

Every gemstone has its quality assurance.
GUARANTEE
---
30 days return policy without using and damage of the stones;

Bulk product quality is not same as samples;

Merchandise are not same as the order list;
To Enquiry the item you're browsing, Please fill in the message form below: