Loose Cubic Zirconia Emerald Green Color CZ Gemstones wholesale from China Manufacturer and Suppliers
Pictures
---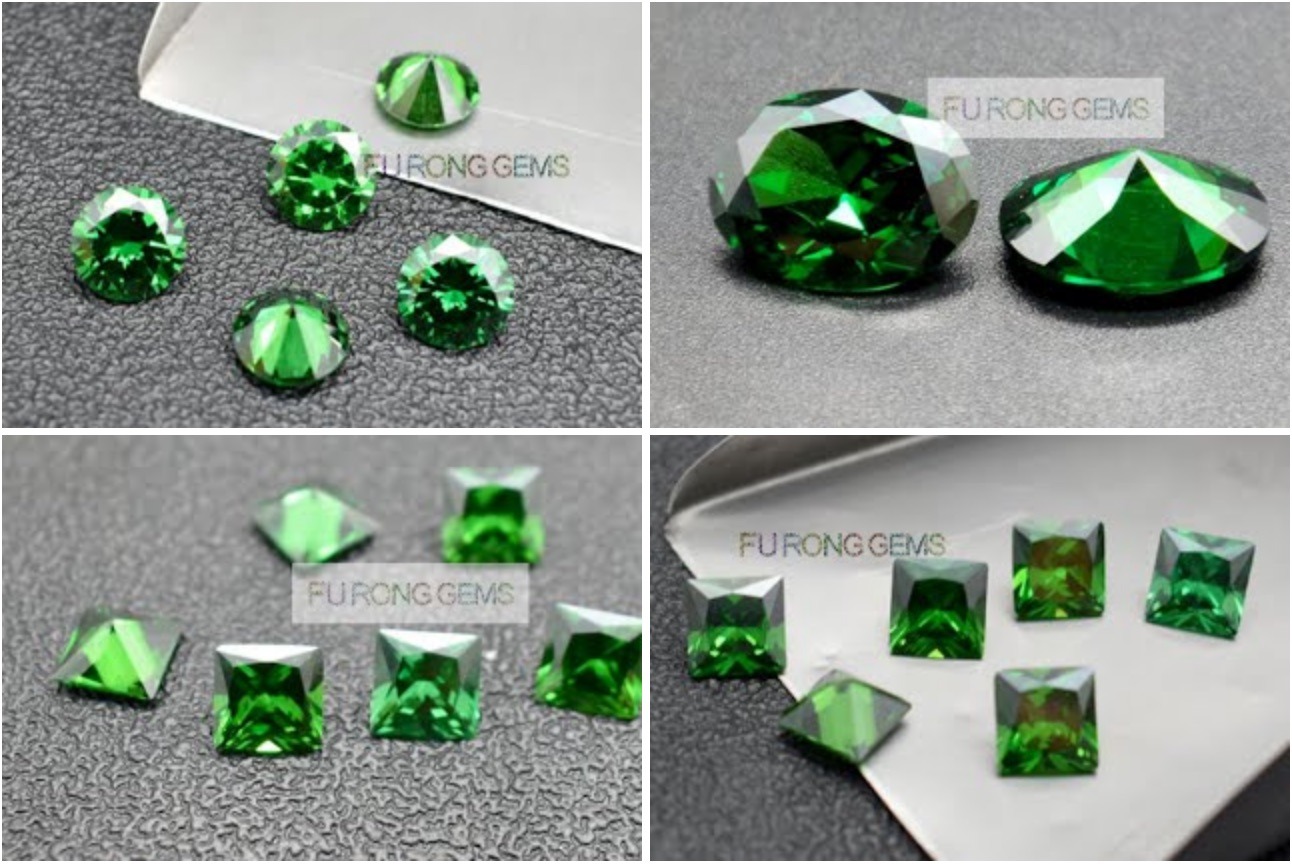 Emerald Green Colored Gemstones are fascinating gemstones. They have the most beautiful, most intense and most radiant green that can possibly be imagined: emerald green. Inclusions are tolerated. In top quality, fine emeralds are even more valuable than diamonds.
The name emerald comes from the Greek 'smaragdos' via the Old French 'esmeralde', and really just means 'green gemstone'. Innumerable fantastic stories have grown up around this magnificent gem. The Incas and Aztecs of South America, where the best emeralds are still found today, regarded the emerald as a holy gemstone. However, probably the oldest known finds were once made near the Red Sea in Egypt. Having said that, these gemstone mines, already exploited by Egyptian pharaohs between 3000 and 1500 B.C. and later referred to as 'Cleopatra's Mines', had already been exhausted by the time they were rediscovered in the early 19th century.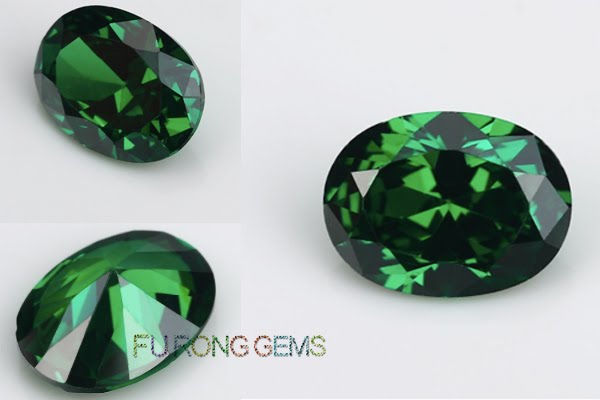 The green of the emerald is the colour of life and of the springtime, which comes round again and again. But it has also, for centuries, been the colour of beauty and of constant love. In ancient Rome, green was the colour of Venus, the goddess of beauty and love. And today, this colour still occupies a special position in many cultures and religions. Green, for example, is the holy colour of Islam. Many of the states of the Arab League have green in their flags as a symbol of the unity of their faith. Yet this colour has a high status in the Catholic Church too, where green is regarded as the most natural and the most elemental of the liturgical colours.

The magnificent green of the emerald is a colour which conveys harmony, love of Nature and elemental joie de vivre. The human eye can never see enough of this unique colour. Pliny commented that green gladdened the eye without tiring it. Green is perceived as fresh and vivid, never as monotonous. And in view of the fact that this colour always changes somewhat between the bright light of day and the artificial light of a lamp, emerald green retains its lively vigour in all its nuances.other gem, which enables them to create new artistic cuts again and again.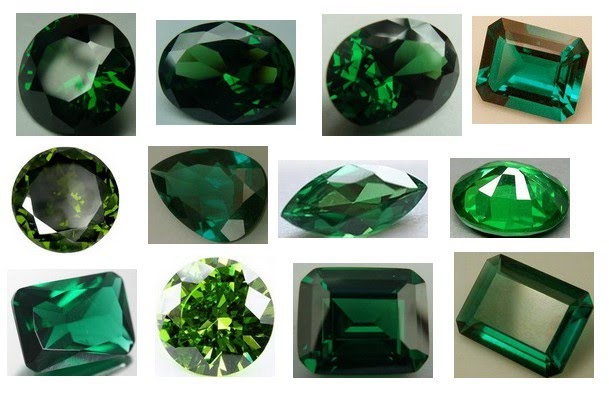 And Now you can buy CZ Cubic Zirconia Emerald Green Color Loose stones with an excellent simulated gemstones of Real Natural Emerald Green stones at Wholesale Direct Factory prices from the Real China Professional Manufacturer and Suppliers.
We have quite a collection of Emerald Green Color CZ Loose Stones such as popular Round Brilliant Cut,Princess Cut,Emerald Cut,Cushion Cut and also unique heart, Oval,Octagon,Marquise, Pear,Star Cuts and Much More...
Slide Album of Cubic Zirconia Emerald Green color stones



---
Video



---
A: Cubic Zirconia (or CZ) is zirconium oxide (ZrO2 ), is widely synthesized for use as a diamond simulant and it is a lab made created stone with a specific gravity of between 5.6-6.00 and at about 8.5 hardness on Mohs scale, which is harder than most natural gems. Its refractive index is high at 2.15 - 2.18 (B-G interval) and its luster is very good. Its dispersion is very high at 0.058 - 0.066, exceeding that of diamond (0.044). Cubic Zirconia Gemstones is the best stimulant for the Real diamond, it's beautiful and brilliant for the Jewelry designs. At FU RONG GEMS, you can Buy White and Colored CZ #Loose Cubic Zirconia Stones# With Quality Grades A to Top Grade Quality AAAAA at Wholesale Direct Factory prices from the Real China Professional Manufacturer and Suppliers.
How Loose Cubic Zirconia Quality is Determined?
A: There are four main factors that help determine the quality or grade of cubic zirconia. These are carat (or carat weight), clarity, color, and cut. CZ stones are imitation diamonds or simulants and are measured in carat weight. Loose cubic zirconia stones are always heavier than real diamonds. This is because the materials that are used to create the stones are denser. Though loose cubic zirconia stones are generally colorless, many shades of colors can be added using trace elements during the manufacturing process. These colors might include lavender, peridot, pink, violet, champagne, aqua, citrine yellow, and others. Typically, transparent cubic zirconia will be the more valuable, high-end diamond imitation. #Colored CZ stones# are valued according to the rarity, evenness, and tone of their colors.
Clarity, or clearness, of loose cubic zirconia is also a quality factor. The manufacturing process can sometimes cloud a stone, making visible imperfections. Just as with genuine diamonds, the clearer the stone is, the greater the value.
The cut is also very important in determining quality for loose cubic zirconia stones. Just as with diamonds, the cut reveals the stone's beauty through every facet. The facets must be even and precise to create just the right appearance. Also as with diamonds, the skill of the stone cutter makes all the difference. Stone cutters do much more than cut. They analyze the stone carefully to determine how much of the stone should be cut off to give proper clarity. Then, they take many steps to perfect their cut without taking away from the stone. Though the Brilliant cut is the standard, there are other popular cuts such as the Trillion, Princess, and Radiant cuts. There are also a variety of shapes to give each stone its own unique personality.
The definition/difference of Our CZ stone quality grades:
---
A Quality stone: The stones is less of sparkling & brilliance. (Use the poor rough to make, The height/thickness of some stones are not reach the standard height of a diamond cut stone. And the Girdle of stones is thin or thick, not in symmetrical. So, some of stones looks Cloudy.
AA Quality stones: Use the Better rough to make, The sparkling & brilliance is better than A Quality, As the cutting & faceting is better.
AAA Quality (Standard) stones: Use the better rough to make,With the standard proportion of diamond cutting & faceting, calibrated in sizes & height, with symmetrical Girdle in general, Therefore, The sparkling & brilliance of stones are better than A & AA Quality.
4A Quality stones: Pick out from the 5A best quality stones. won't make this kind of quality stone individually.
5A Best quality stones: The best/Top quality among the market, 4C standard, Use the best rough to make, Best Color,Best Clarity, Best Cut, Best Polished, With the thin & symmetrical Girdle. It's the best sparkling & brilliant cz stones you'd ever seen.
---
CUBIC ZIRCONIA COLORS
There're

Regular colors

and

Premium colors

for the Cubic Zirconia Stones:
CZ Regular colors: (CZ01 -CZ28) White, Black, Pink, Rose Pink, Golden Yellow, Canary Yellow,Lavender,Amethyst, Champagne,Orange,Violet, Garnet Red, Olive Yellow, Peridot
Premium Colors: (CZ29 -CZ52) Rhodorite/Smoky,Tanzanite, Emerald Green, Aqua and Swiss Blue, Apple Green,Light Pink (US Rough), Coffee Brown (Yellowish and Reddish),Blue Zirconia, Fancy Canary Yellow (US Rough), Diamond Imitated Color,
(Premium means: The cost of the rough is higher, so the price of CZ Premium Color stones is higher than Regular colors.)
Click the Colors Name to check the colors you're interested in.
Click the following Color Chart and Shapes & Size Chart to learn More.
OUR ADVANTAGE
---
Factory & Manufacturer since 2008, strong productive ability.

Ensure the large quantity supply of product.

We are one of the largest manufacturers & Suppliers of Loose gemstone in Wuzhou City.

Strict quality inspection:

15 production processes ; 9 inspection processes ; more than 8 experienced QC check ;

Every gemstone has its quality assurance.
GUARANTEE
---
30 days return policy without using and damage of the stones;

Bulk product quality is not same as samples;

Merchandise are not same as the order list;
To Enquiry the item you're browsing, Please fill in the message form below: