Baguette Cut(Rectangle step cut) Cubic Zirconia and Synthetic Gemstones Wholesale from China Suppliers and manufacturers.

(For loose cubic zirconia,lab created sapphire,ruby,spinel and other Natural or Synthetic Gemstones)
Baguette cut - Baguettes tend to have stepped facets, like emerald cut and Baguette Cut is one of the earliest and simplest cuts employed to give diamonds their perfect shapes. The cut of a diamond is an important determining aspect of its beauty and worth. In fact, it is the perfect cut of a diamond that helps to enhance its brilliance. Different kinds of cuts have been used over the years to give expensive gemstones, like diamond, a specific shape.
They are used in the very popular Ballerina Rings. They can either be straight or tapered and can look stunning in some pieces of jewellery.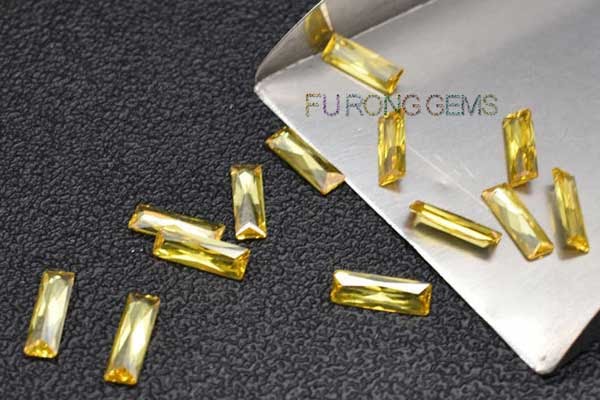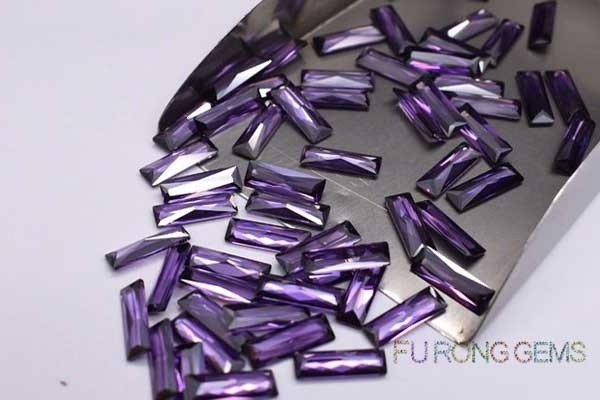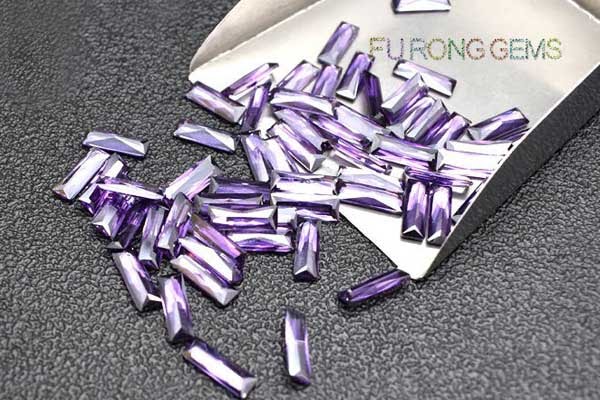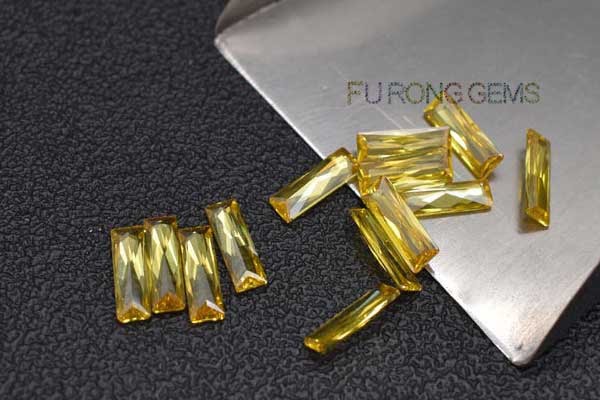 Baguette Cut: Rectangle shape top view.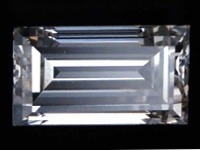 Coming from the French bread stick. The Baguette may be Cut long or more emerald shaped in proportions. As a main stone the proportions should be more like a rectangle shape. The Baguette is for those people who want a long stone, usually used are small baguettes to accompany different shaped diamonds.

There're 4 kinds of Baguettes cut:
1. Traditional Baguette Cut
2. Straight Baguette Cut(Popular Cut on the Market)

3. Princess Baguette (Popular Cut on the Market)
4. Tapered Baguette Cut Like the standard baguette cut these stones are excellent for mounting in ring shanks and help to highlight a bigger central stone.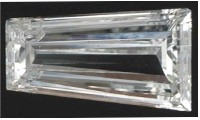 At Fu Rong Gems, you can buy Baguette Cut gemstones at Wholesale Direct Factory prices from the Real China Professional Manufacturer and Supplier.
Check our Website to choose Your Ideal Baguette Cut Loose Cubic Zirconia stones,Baguette Cut Lab Created Gemstones such as Sapphire,Aqua,Alexandrine and Created Ruby stones. All Baguette cut gemstones are wholesale directly from China.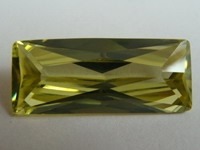 --Low, Low Factory Prices from China Wuzhou--the Biggest Synthetic Gemstones Manufacturing Base in the World.
Rectangle Princess Cut CZ Green color Gemstones and Baguette step cut white cz Gemstones:
Tapered Baguette Cut in Cubic Zirconia Colored Gemstones:
Straight Baguette Cut Birthstones Color stones slider.
Contact us to get a Free Quote for The high quality of Baguette Cut Rectangle step cut or princess cut Loose Cubic Zirconia and Synthetic & Natural Stones from China Wuzhou Supplier and Manufacturer.
Popular Shapes/Cuts of Loose Gemstones
Click the following Color Chart and Shapes & Size Chart to learn More.
Factory & Manufacturer since 2008, strong productive ability.

Ensure the large quantity supply of product.

We are one of the largest manufacturers & Suppliers of Loose gemstone in Wuzhou City.

Strict quality inspection:

15 production processes ; 9 inspection processes ; more than 8 experienced QC check ;

Every gemstone has its quality assurance.
GUARANTEE
30 days without using and damage of the stones;

Bulk product quality is not same as samples;

Merchandise are not same as the order list;
To Enquiry the item you're browsing, Please fill in the message form below: