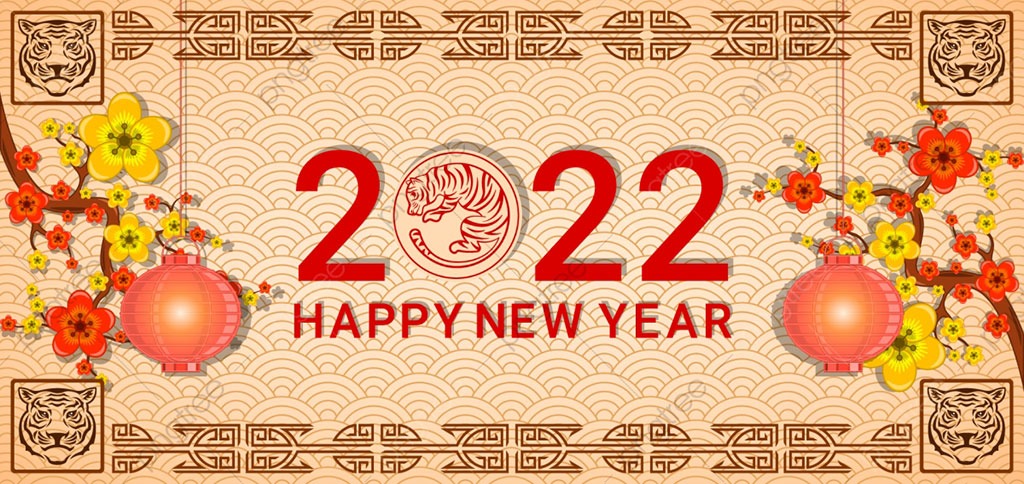 New Year Holiday Season
Happy new Year 2022, sending wishes your way for a great holiday season and a super fabulous year ahead!
"Cheers to health, happiness, and prosperity in 2022!"
---
Reminder for CNY order
FU RONG GEMS will take CNY holiday from
27 Jan 2022 to 9 Feb 2022
and resume business on
10 Feb 2022.
Please kindly pay attention to the following:
Orders placed on 21 Jan 2022 or after, we do not guarantee shipment on or before 28 Jan 2022.
Custom order may take longer production time(Will be more than 15 days), please contact with our sales team for more.
CNY Holiday(

Chun Jie Festival

is the biggest festival for Chinese Pepople), Usually, the factories will be closed early as the workers will back to their hometown to celebrate the holiday with family.

Therefore, you'd better to schedule to place the order earlier so that we can finish & ship before the holidays.
We apologize for any inconvenience cause to you and thank you very much for your kind attention
Best Regards,
FU RONG GEMS
---
When is Chinese New Year 2022?
Chinese New Year 2022 falls on Tuesday, February 1, 2022. The Chinese New Year animal sign will be the tiger. As a public holiday, Chinese people will have 7 days off from work from January 31 to February 6, 2022. It is the world's biggest party when you include Chinese-speaking countries and the New Year's long, the 16 days in total.
Chinese New Year celebration traditionally lasts for 16 days, from Chinese New Year's Eve to the Lantern Festival. In 2022, it is from January 31 to February 15.
The most notable dates for the Chinese lunar year 2022 are these three days:
New Year's Eve, January 31, 2022
New Year's Day, February 1, 2022
The Lantern Festival on February 15, 2022
Traditionally, Chinese Lunar New Year activities begin as early as three weeks before Chinese New Year's Eve. Old-fashioned (mostly rural) people start cleaning their houses from the 23rd of the twelfth lunar month (January 25, 2022).
The Chinese new year 2022 year of the tiger red and gold flower and Asian elements.
What is the Chinese New Year 2022 Beast? – Tiger
2022 is the year of the Tiger according to the Chinese zodiac sign, starting from February 1, 2022 and lasting until January 21, 2023.
People born in a year with Tiger are expected to be brave, competitive, unpredictable and confident. They will experience the birthmark of their zodiac sign  in 2022, which is considered an accident.
The most recent / upcoming years for Tiger are 1938, 1950, 1962, 1974, 1986, 1998, 2010 and 2022.
You can use our free Chinese Zodiac Calculator tool to find your zodiac sign.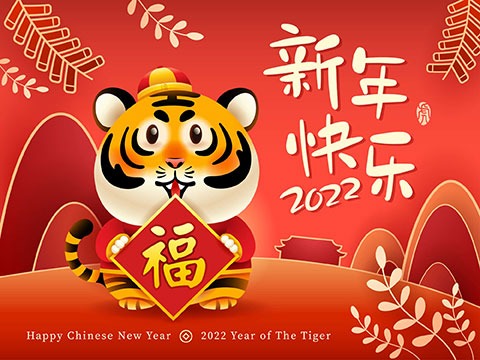 When is Chinese New Year?
The date of Chinese New Year changes every year, but it always falls between January 21 and February 20.
The date is determined by the Chinese lunar calendar, which is based on lunar and solar cycles and is generally 20 to 50 days ahead of the Gregorian (internationally used) calendar. Chinese New Year is a new moon day, usually the second after the winter solstice.
You can click here to learn more details:
China Spring Festival Chun Jie and Traditional Customs Introduction