Loose Synthetic Watermelon Tourmaline Glass BiColor Octagon Shape Emerald cut 10x8mm Gemstones Wholesale at factory direct price from China Manufacturer and Suppliers
Pictures
What is Synthetic Watermelon Tourmaline Glass BiColor Gemstones?
It's made of Glass & Crystal hybrid material. it's a type of Synthetic gemstone.
Natural tourmaline colors are rare, but the glass stones can simulate many beautiful colors. The rough producer create this beautiful colors with Glass & Crystal hybrid material successfully , Synthetic tourmaline also called as Watermelon Tourmaline.
About the Tourmaline gemstone:
Tourmaline gemstone is a semi-precious mineral similar to granite. With colors ranging from magenta to teal-blue, meadow-green to vibrant yellow, and even black,tourmaline gets its name from the Singhalese phrase "tura mali," which means, "stone mixed with vibrant colors."
Tourmaline derives from the Sinhalese term "turamali", which translates as "stone of mixed colors". The very name refers to the unique spectrum of colors displayed by this gemstone, which is second to none in the realm of precious stones. One of the most versatile of gemstones, tourmaline is available in every color, from colorless to black. It can show every tone from pastel to dark, and can exhibit various colors in the same stone.
Natural Tourmaline Gemstones is expensive, and now there's a new and best substitution--Glass Tourmaline Color Gemstones, which the color is more beautiful look then the real Natural Tourmaline, and the price is very cheap.
This Synthetic Watermelon Tourmaline Color Gemstones Can be made in many popular shapes, such as round, oval, Pear, Heart shape, Cushion, Emerald, marquise,etc.
and Usually the sizes are making bigger than 4mm.
Is there fake tourmaline?
Tourmaline itself is so plentiful that it is not synthesized by laboratories. However, just because tourmaline is not lab-created does not mean that fake pink tourmalines do not exist. Glass, plastic, or cheaper gemstones have been sold as counterfeit pink tourmalines.
Where to buy Simulated Tourmaline color synthetic Tourmaline color gemstone?
FU RONG supply high quality of synthetic Tourmaline color gemstone in all kinds of popular shapes & sizes for your jewelry designs, wholesale at factory price from china suppliers and manufacturer.
Synthetic watermelon tourmaline stone Color Chart
---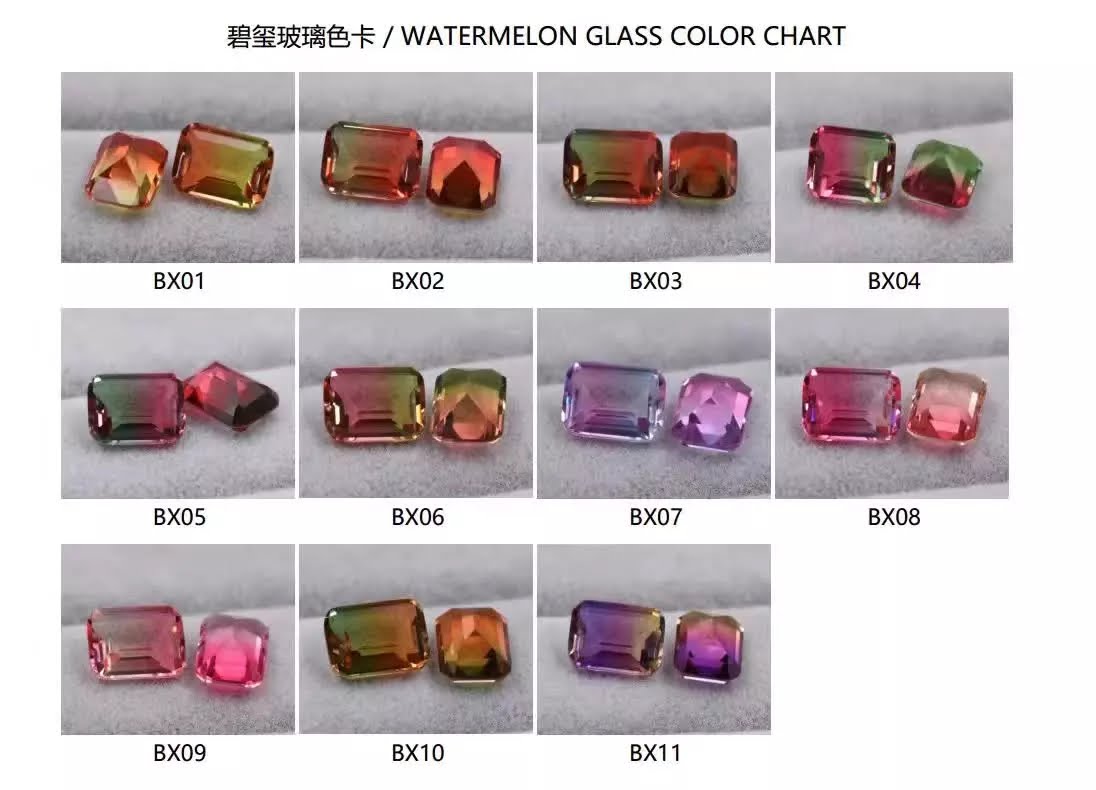 OUR ADVANTAGE
---
Factory & Manufacturer since 2008, strong productive ability.

Ensure the large quantity supply of product.

We are one of the largest manufacturers & Suppliers of Loose gemstone in Wuzhou City.

Strict quality inspection:

15 production processes ; 9 inspection processes ; more than 8 experienced QC check ;

Every gemstone has its quality assurance.
GUARANTEE
---
30 days return policy without using and damage of the stones;

Bulk product quality is not same as samples;

Merchandise are not same as the order list;
To Enquiry the item you're browsing, Please fill in the message form below: