Loose Moissanite Pink Color Cushion shape Brilliant Cut 9x9mm 3.5ct weight Gemstones wholesale at China Suppliers and Manufacturer.
PICTURES
---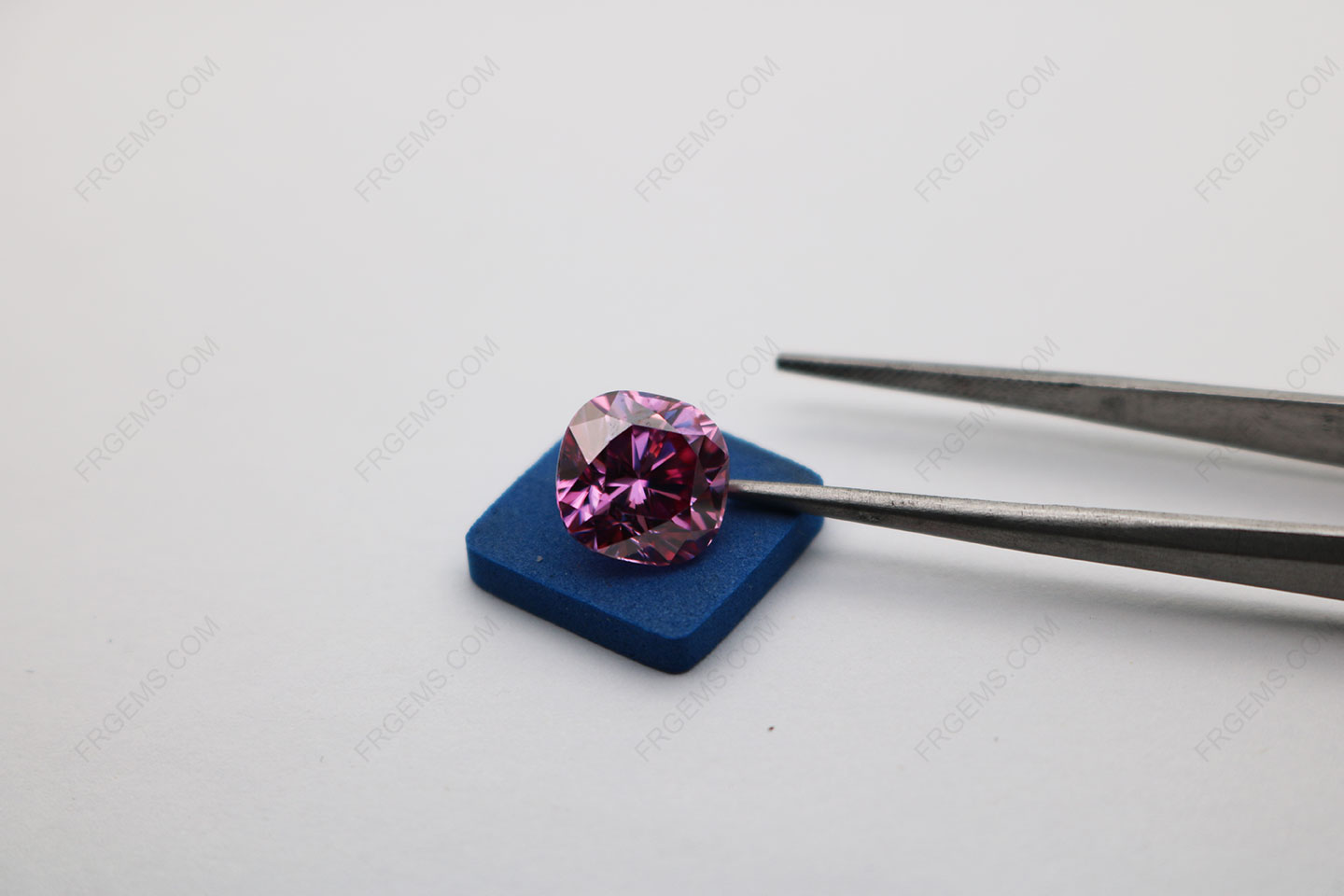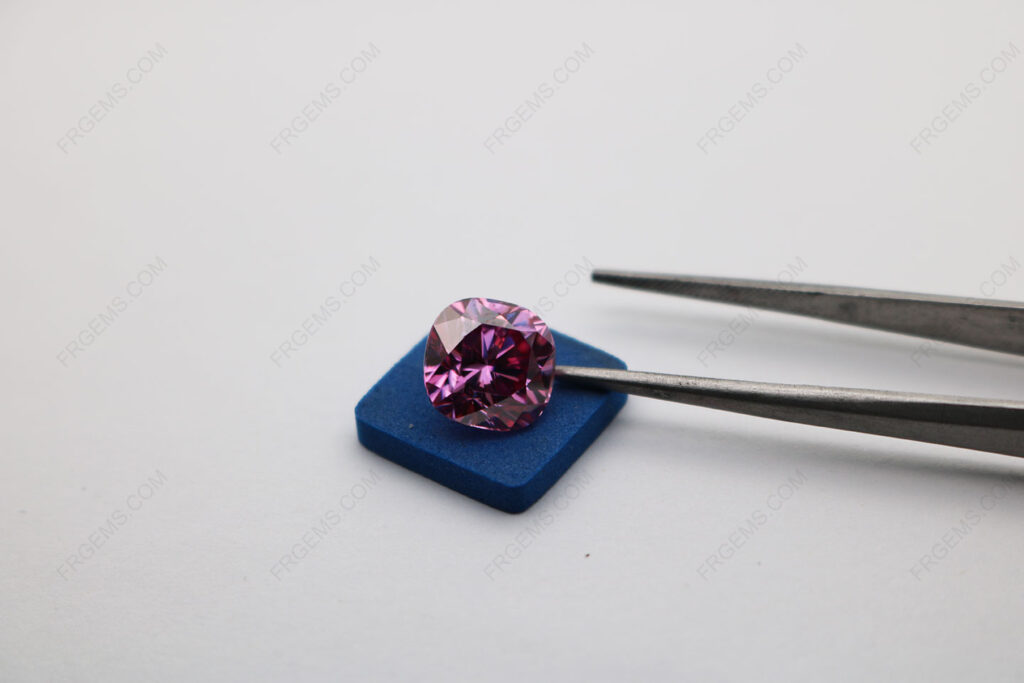 Cushion Shape Gemstones - The cushion cut is an antique cut that most often resembles a cross between the Old Mine Cut (a deep cut with large facets that was common in the late 19th and the early 20th centuries) and a modern oval cut. This shape is also sometimes referred to as the pillow-cut or the candlelight diamond (a reference to cuts designed prior to electric lights, when diamonds sparkled in the light provided by candles).
This cut is not as fiery or brilliant as many of the newer cuts, but it has a marvelously romantic and classic look and definitely stands out from the crowd of round brilliants.
The cutting pattern of these pink color moissanite cushion shape stone is brilliant cut, like the 'heart and arrow' brilliant, not the traditional regular cushion shape diamond cut.
VIDEO
---
---
About the Pink Color Moissanite Stones:
The color of Pink moissanite stones is coated. 
A Coated Moissanite gemstone which is covered by an artificially applied transparent material or mineral to enhance its colour and appearance, is known as a coated gemstone.
The technique is often used with coloured Topaz to create Mystic Topaz, and colourless Quartz is turned into Mystic Quartz using the same process. Now it's the same kind of technique can be used in Loose Moissanite stones.

Does This Coated Pink color Moissanite change color over time?
The color won't be changed unless it's washed by the Acid base liquid.
FU RONG GEMS Supply and manufacture high quality of Loose Moissanite Pink Color gemstones in all kind of popular shapes. and also several other Coated Colors Moissanite stones. 
Other Coated colors
---
CERTIFICATE
---
Usually, the Moissanite stones comes with the GRA certificates. With the Certificate # inscription on the Girdle of the stones. (The inscription only can be done for the sizes of stones bigger than 4mm)

FAQ of Moissanite stones:



---
1. Can I pass off my moissanite as a diamond?
Yes, moissanite looks very similar to a diamond. It's near-colorless, has a similar refractive index to a diamond and the GIA deems moissanite the closest diamond imitation. ... Natural moissanite has a faint yellow tinge. But the chance that you have the option of natural moissanite is exceedingly small.
2.Does Moissanite hold its value?
Moissanite is not likely to increase in value, but neither is a typical diamond. Both generally resell at a substantial loss-especially if they're resold soon after being purchased. Because Moissanite is much less expensive, the total risk of loss is often lower than it is with a more expensive diamond.
3.Does Pink color Moissanite change color over time?
This Pink color is not the original color of Moissanite, the color is enhanced and it's coated. But the color can stay for a long time. won't be changed easily.
4.Will moissanite get cloudy?
While AGE won't make Moissanite cloudy, some oils and chemicals can. Oils and dirt can build up on the surface of stones, blocking light from entering and sometimes making them appear to be a little cloudy. When that kind of thing happens to a Moissanite stone, it isn't a permanent condition.
---
MM Size & CT Weight Chart:
OUR ADVANTAGE
---
Factory & Manufacturer since 2008, strong productive ability.

Ensure the large quantity supply of product.

We are one of the largest manufacturers & Suppliers of Loose gemstone in Wuzhou City.

Strict quality inspection:

15 production processes ; 9 inspection processes ; more than 8 experienced QC check ;

Every gemstone has its quality assurance.
GUARANTEE
---
30 days without using and damage of the stones;

Bulk product quality is not same as samples;

Merchandise are not same as the order list;
To Enquiry the item you're browsing, Please fill in the message form below: