Lab Grown Pulled Czochralski Cornflower Blue Sapphire Oval shaped Faceted Loose Gemstone wholesale from china Suppliers and Manufacturer.
1.What is Cornflower Blue Sapphire?
Cornflower Blue Sapphire is the highly sought after color variety of Sapphire that bears pure blue hue similar to the color of a cornflower. It is found in light to medium color tone and comes from a variety of origins including Kashmir (India), Ceylon (Sri Lanka), Madagascar and Burma (Myanmar). Due to its fine color and exceptional clarity, this blue sapphire variety is considered best for astrological use. Western astrology prescribes this gem to be worn as September Birthstone.
2.Which one is better –A Cornflower blue sapphire or Royal blue sapphire?
Geologically, Cornflower Blue sapphire and Royal Blue Sapphire – both are regarded as the top color quality of blue sapphire gemstone. Therefore, both varieties are equally considered relevant for astrological as well as jewelry purposes. The selection between a Cornflower blue sapphire and Royal Blue Sapphire will majorly depend upon the buyer's personal preferences and budget plan.
3.Where to buy Cornflower blue sapphire or Royal blue sapphire gemstones?
Natural blue sapphire are expensive for large ct weight stones, now the best simulated are the Lab grown Cornflower blue sapphire, which . The chemical, physical and optical properties are identical to their natural counterpart, and the price is everyone can afford to buy it.We supply high quality of loose Lab grown Cornflower blue sapphire in various shapes/sizes.
What's Pulled Czochralski Blue Sapphire Gemstone?
Flame fusion creates long, tear-shaped pieces of synthetic corundum. Consisting of a mix of aluminum oxide and chromium, would have yielded a synthetic ruby.
Another melt process, the Czochralski process, uses radio waves to melt the aluminum oxide. A rod tipped with a seed crystal is inserted into the mixture and slowly rotated and pulled out, creating a column of sapphire.
The lab created Blue Sapphire can also be created by flame fusion but the quality and resemblance of synthetic Blue Sapphire created by Czochralski Pulled process is considered to be the best and superior to all other lab created Blue Sapphire.
As It follows the same process as natural Blue Sapphire is created make it the most superior among other Blue Sapphire. Natural Blue Sapphire are rare and over-valued. It is better to buy synthetic Blue Sapphire made by Pulled method as they have exact same chemical composition and physical composition and are sold at fraction of price of natural Blue Sapphire. They also appear brighter and more vivid than natural Blue Sapphire making it the better than corundum blue sapphire stones.
SYNTHETIC Blue Sapphire (Pulled Czochralski) PROPERTIES:
Chemical Formula:Al2O3
Hardness: 9
Luster-Subadamantine To Vitreous
Stability:Very Good
Fracture:Conchoidal
Refractive Index:1.762-1.77
Lab Created Pulled Blue Sapphire looks exactly like natural Blue Sapphire. Only when observed under high magnification microscope in labs, small bubbles or foreign particles can only differentiate between them.
How Can Gemologists Distinguish Lab-Grown Sapphires From Natural Sapphires?
Distinguishing lab-grown sapphires from natural sapphires is challenging, but each artificial creation method leaves telltale signs that an expert gemologist can identify.
Melt processes like flame fusion may create sapphires that exhibit curved growth lines and curved color bands not found in nature. The Czochralski process also may produce gems with inclusions like gas bubbles and smoky veils. Hydrothermal synthesis may leave distinctive "nail head" inclusions.
You might be interested in Lab created Corundum blue sapphire stones, which the price is much cheaper and the color looks very close.
Video
---
Color Chart of Lab Grown Gemstones
---
Popular Colors of Lab Grown Gemstones: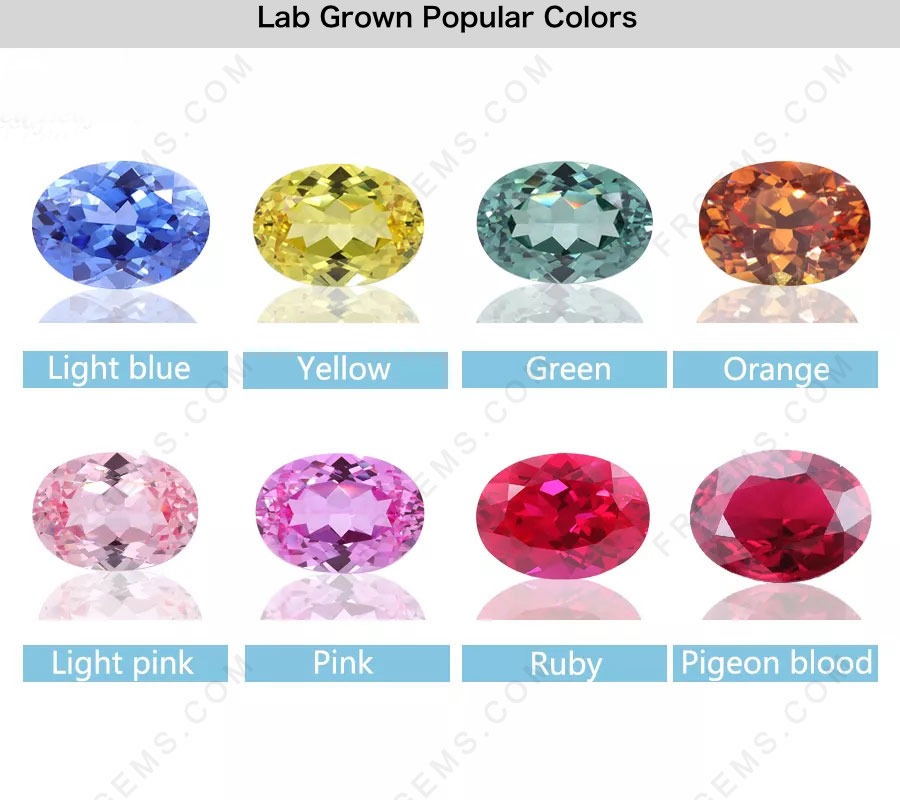 OUR ADVANTAGE
---
Factory & Manufacturer since 2008, strong productive ability.

Ensure the large quantity supply of product.

We are one of the largest manufacturers & Suppliers of Loose gemstone in Wuzhou City.

Strict quality inspection:

15 production processes ; 9 inspection processes ; more than 8 experienced QC check ;

Every gemstone has its quality assurance.
GUARANTEE
---
30 days without using and damage of the stones;

Bulk product quality is not same as samples;

Merchandise are not same as the order list;
To Enquiry the item you're browsing, Please fill in the message form below: