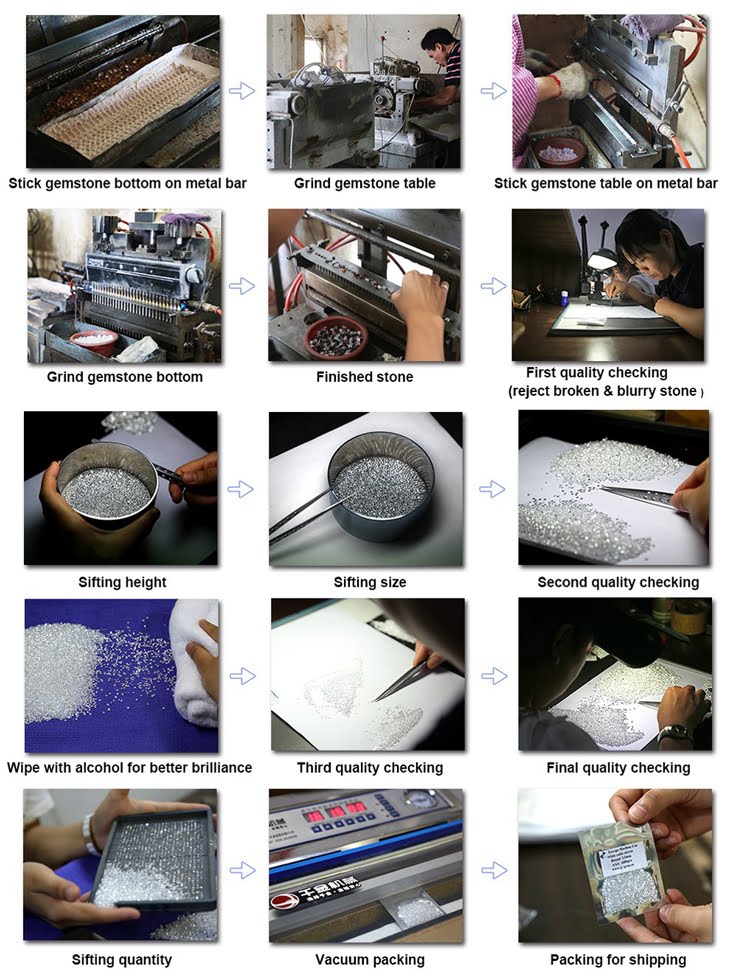 1.     Picking raw materials.There are three standards for picking raw materials. First, according to the grade, the higher grade, the bigger raw material. Second, the colored stones are stricter to the requirement of color, the color need to be well-distributed. Third, the stone need to be very pure and less impurity. 
2. Partition. Split the rough stone: including cutting and sawing.
3. Molding , the gemstone will be rounded and then molded after partition, that is make the gemstone into the shape according to the design requirement, such as round, heart ,pear oval ,triangle ,rectangle, square, marquise and emerald.

4. Semi-finished products.To make the gemstone more brightness, we need to polish the gemstone in the polish barrel together with crushed aggregates in different size
5. Faceted and polished: grind all the facets on the iron disc which painted with diamond powder and lubricant to make the gemstone sparkling. Generally, the grinding of round shape is: first of all, make 8 big surfaces and then 16 facets. Plus culet, there will be 25 facets in total. And then extending small triangle facet, bezel facet and upper girdle facet (33 small facets in all) from these 25 facets. In this case, a diamond will be 58 facets. But if no culet it will be 57 facets. 
(We can see that, to make the gemstone sparkling, not only need advance equipment but also high sense of responsibility, concentration and wealthy experience during cutting.) 
6、In order to make the gemstone have better brightness, the gemstone need to be soaking with sulfuric acid and then washed by water, wiped with soft cloth finally. 
7、Quality inspection: There is three professional checkers in our company. And there will be three working procedures and nine steps of quality inspection: 
a .checking the size. 1.sifting height: we control the error range of the height at±0.025mm .. 
b. sifting the size, we control the error range of the size at±0.025mm 
C. quality inspection: pick out all the stone with corner, crack and vague. Wipe the products with alcohol. Finally make sure every gemstone the clients received will be perfect.
8、 Packing. There will be different packing for different size of gemstone.

Click here to check the Packing Method: https://www.frgems.com/packing-method-of-loose-gemstones
Packing size: 1-3mm will be packed in vacuum bags. 3-15mm will be packed with soft paper. Above 15mm will be packed in pp bag individually.
After packing, the diamond will be put into the paper box together with the foam mark and sponge mat which can protect the gemstone during the shipment.
All above reflect our professional on packing. In addition we also can pack all the product customize which show the humanization of our services
9、shipment
Questions or enquiry, Please feel free to send us email: