Loose Lab Grown Pulled Czoahralski Ruby Red Color Radiant Cut 10x8mm Lab Ruby Red Gemstones wholesale from china Suppliers and Manufacturer.
PICTURES
---
* Factory direct.
* Strict quality control.
* Large Stock.
* Customized is welcome.
*All Photos are 100% real shoot.
Cutting provide: all kinds of Poupular shapes/cut and also can be made in custom shapes/cuts.
Delivery date: 1-2 days for in stock, 7-10 days for custom orders.
VIDEO
---
Usually, There're 2 kinds of popular Lab Grown Ruby Stones:
One is Hydrothermal Ruby red, the colors have are light, medium and dark shades. 
Another one is Pulled-Czochralski Ruby Red, which the colors are usually in Dark, like the pigeon blood red color. 
What is Lab Grown Pulled Czoahralski RUBY?
Lab Synthesized Pulled Ruby (By Czochralski Process). Pigeon blood red - the color is phenomenal! 
This process utilizes a ruby seed crystal and is considered one of the top methods of creating quality ruby synthetic.
What is Lab Grown Hydrothermal RUBY?
Another Ruby Process method is made by hydrothermal growth (newest "Platinum" technology) which is slow and only method for successfully growing synthetic ruby. This process requires heat and pressure and imitates the conditions deep in the earth that result in the formation of natural gems. Nutrients are dissolved in a water solution, and then synthetic crystals form as the solution cools to produce a ruby gemstone.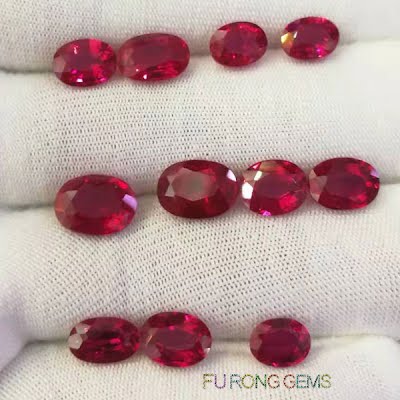 The lab created ruby can also be created by flame fusion which is the Corundum, crystal pulling or flux growth method but the quality and resemblance of synthetic ruby created by hydrothermal process is considered to be the best and superior to all other lab created rubies. As It follows the same process as natural ruby is created make it the most superior among other rubies.
Natural rubies are often over-valued. It is better to buy synthetic Corundum rubies or lab created rubies made by hydrothermal method as they have exact same chemical composition and physical composition and are sold at fraction of price of natural rubies. They also appear brighter and more vivid than natural rubies making it the better than natural corundum. Color of this item is just like the Natural Burmese Ruby color.
---
Lab created pulled ruby super quality gemstone would have the following physical and chemical properties:
– Chemical Composition: Magnesium Aluminium Oxide, (Chromium; minor component)
– Refractive index: 1.715 – 1.734
– Material Hardness: 8.4 Moh's scale.
– Specific gravity: 3.58
We Supply high quality of Lab Grown Pulled Czoahralski ruby, Hydrothermal Ruby Red Color and Corundum Ruby Red Color gemstones wholesale at factory direct price from China. 
POPULAR SHAPES AND SIZES:
OUR ADVANTAGE
---
Factory & Manufacturer since 2008, strong productive ability.

Ensure the large quantity supply of product.

We are one of the largest manufacturers & Suppliers of Loose gemstone in Wuzhou City.

Strict quality inspection:

15 production processes ; 9 inspection processes ; more than 8 experienced QC check ;

Every gemstone has its quality assurance.
GUARANTEE
---
30 days without using and damage of the stones;

Bulk product quality is not same as samples;

Merchandise are not same as the order list;
To Enquiry the item you're browsing, Please fill in the message form below: