Lab Grown Pulled Czochralski Pink Sapphire Oval Shaped Faceted cut Synthetic Pink Sapphire Gemstone wholesale from china Suppliers and Manufacturer.
---
What's the Pink Sapphire Color Stone?
The Lab Created Pink Sapphires are the family stones of Synthetic Corundums. Lab Created Pink Sapphiresare made by a method called Flame Fusion.They are made in such a way that they look like Natural gemstones. These Lab Created gemstones have the same chemical properties of the real stone,Have the same hardness, density and appearance like the Natural Pink Sapphire. Only a trained eye can tell the difference between the two.
The most common Corundum colors are Blue Sapphire and Ruby color stones, but we can also supply White Sapphire, Orange Sapphire, Yellow Sapphire and Alexandrites in all shapes and sizes.
We have quite a collection of Pink Sapphire Color Loose gemstones such as popular Round Brilliant Cut,Princess Cut,Emerald Cut,Cushion Cut and also unique heart, Oval,Octagon,Marquise, Pear,Star Cuts and Much More...
SYNTHETIC Pink Sapphire (Pulled Czochralski) PROPERTIES:
Chemical Formula:Al2O3
Hardness: 9
Luster-Subadamantine To Vitreous
Stability:Very Good
Fracture:Conchoidal
Refractive Index:1.762-1.77
Lab Created Pulled Pink Sapphire looks exactly like natural Blue Sapphire. Only when observed under high magnification microscope in labs, small bubbles or foreign particles can only differentiate between them.
How Can Gemologists Distinguish Lab-Grown Sapphires From Natural Sapphires?
Distinguishing lab-grown sapphires from natural sapphires is challenging, but each artificial creation method leaves telltale signs that an expert gemologist can identify.
Melt processes like flame fusion may create sapphires that exhibit curved growth lines and curved color bands not found in nature. The Czochralski process also may produce gems with inclusions like gas bubbles and smoky veils. Hydrothermal synthesis may leave distinctive "nail head" inclusions.
Video
---
Color Chart of Lab Grown Gemstones
---
Popular Colors of Lab Grown Gemstones: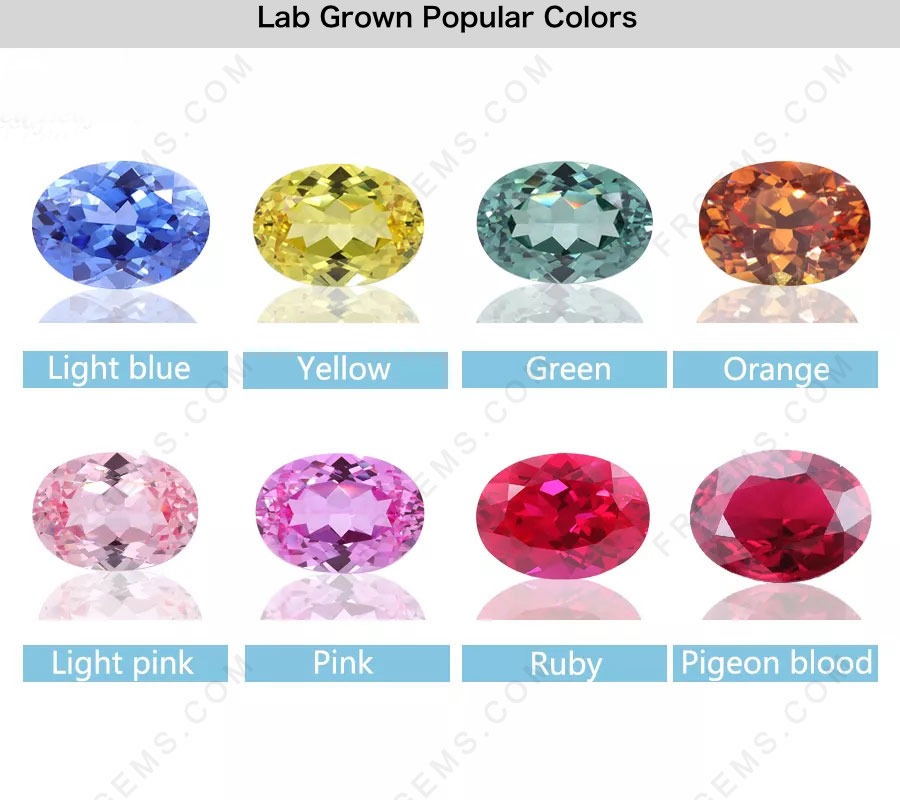 OUR ADVANTAGE
---
Factory & Manufacturer since 2008, strong productive ability.

Ensure the large quantity supply of product.

We are one of the largest manufacturers & Suppliers of Loose gemstone in Wuzhou City.

Strict quality inspection:

15 production processes ; 9 inspection processes ; more than 8 experienced QC check ;

Every gemstone has its quality assurance.
GUARANTEE
---
30 days without using and damage of the stones;

Bulk product quality is not same as samples;

Merchandise are not same as the order list;
To Enquiry the item you're browsing, Please fill in the message form below: